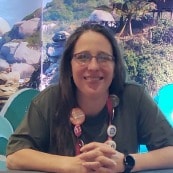 Melissa Bootz is an adjunct secondary school teacher at Arizona Connections Academy. She has been teaching since 2007 and joined Arizona Connections Academy in 2009. Ms. Bootz shares more about herself below:
'I am an Arizona native, but I love to travel and experience different places. I even lived in Sweden for six months as part of a study-abroad program! I enjoy staying healthy by going to the gym and being active outdoors. Some outdoor activities I like are hiking, running, rock climbing, and bike riding. Art is another passion of mine, and I encourage creativity and the creative process.'
"I love teaching at Arizona Connections Academy because of the flexible schedule. The benefit of teaching at an online school is that I can provide instructional materials on my message board that are available to my students 24/7."
— Ms. Bootz