Say Thanks During Teacher Appreciation Week
by Dan Reiner
4 min to read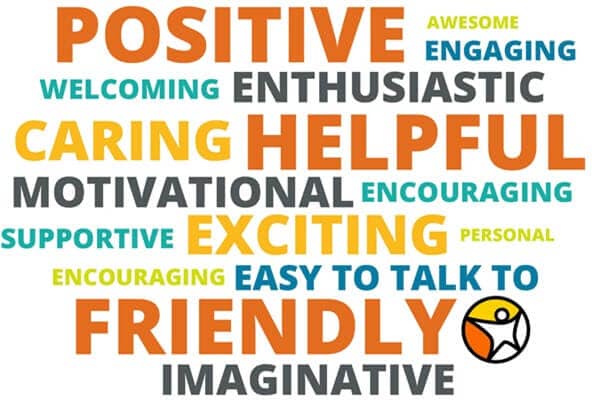 Engaging classes, thorough curricula, and supportive parents all factor into a quality education. But most importantly, great education takes great teachers. Teacher Appreciation Week starts Monday, May 6—and it's a great time for students to reach out and thank a special teacher.
If your student attends a virtual school, consider celebrating Teacher Appreciation Week by sending a creative online thank-you. Here are some different ways you can help your student show his or her appreciation:
Send a Thank-You E-Card
Sending a thank-you card is a traditional but effective way to show your appreciation for a teacher. To send a card online, your student can design his or her own thank-you e-card using a free tool such as Punchbowl(opens in a new tab).
Encourage your student to be as specific as possible in the message, describing an instance when he or she truly appreciated the teacher's help with a concept or exercise. The details your student provides will make his or her teacher's day extra special!
Create a Teacher Word Cloud
A word cloud is a graphic that visually represents a selection of text. When you use a word cloud(opens in a new tab) website, you type in or paste text in the designated area, and then the tool will generate the graphic for you. The more often a word is used in a selection, the larger it will appear in the word cloud.
To make a word cloud, tell your student to create a list of positive words that describe his or her teacher, such as fun, interesting, and kind. Try some of the following websites and experiment with the different features each one offers. The websites usually allow you to change the font style, color scheme, and basic layout of the word cloud.
Students can easily write a thank-you note to their teacher by uploading it on Thanks for Teaching Us. Just tell your child to click on the "Submit a Story" button on the homepage and briefly describe how the teacher has helped and inspired him or her. Once the story has been approved and posted, click the link at the bottom of the message so your student can email the thank-you to his or her teacher.
You can also browse other students' stories by category, such as "Inspirational" and "From Around the World." In the search box, type in the names of familiar teachers, schools, and locations to see if anyone else has posted about teachers you know.
Nominate Your Teacher for an Award
If you think your teacher deserves recognition in the education community, nominate him or her for a teaching award! Plenty of national, state, and local teaching award competitions are held each year. Some allow students and parents to nominate teachers, while others require the teachers to apply. If you can't nominate your teacher, encourage him or her to apply, providing some reasons why you and your child think he or she does a tremendous job.
Below are two examples of awards and opportunities your teacher might be eligible for:
When you visit an award website, look for the nomination criteria and the application deadlines. For local opportunities, visit the Department of Education website for your state to look for information on Teacher of the Year awards.
Record a Thank-You Video
Help your student record a short video thanking his or her teacher using a webcam, smartphone, or video camera. You can create a simple video file using one of these devices, but you can also use a video app such as Animoto(opens in a new tab) if you want more creative capabilities.
To keep the video short and easy to film, tell your student to describe the number one reason why he or she appreciates the teacher. If your student is really interested in video and wants to create something more complex, get some tips from instructional websites such as Kids' Vid(opens in a new tab). This website offers information on scripting, making, and editing videos for students.
We recommend beginning your discussion about Teacher Appreciation Week early so your child has time to plan. Encouraging your child to thank his or her teacher helps promote an attitude of gratitude. Your involvement will demonstrate the high value your family places on education—and that's a lesson your child will remember!
Parental involvement makes a huge difference in a child's education. Visit our website to discover how you can become more involved in supporting your student's learning with online public school(opens in a new tab) or online private school(opens in a new tab).
Related Posts
Sorry, there are no blog posts to display.