Quick and Kid-Friendly Summer Grilling Recipe Ideas
by Beth Werrell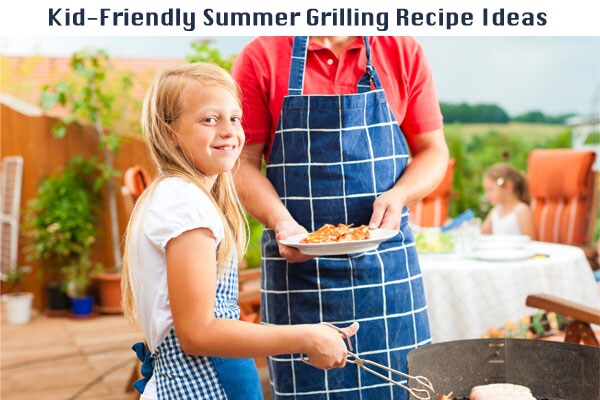 Summertime offers a great opportunity to teach your child useful cooking skills with kid-friendly grilling recipes. Have your child help you make fun summer drinks, choose unique barbecue recipes, and prepare fresh ingredients for pick-and-choose grilling stations.
You can handle the knives and the grilling portion while teaching your child important safety lessons.
Let's Start with Drinks
There are plenty of fun summer drinks that involve little prep work. Here are a few recipes you can try with your child.
With only four ingredients, watermelon lemonade offers a simple, sweet treat your child can whip up in a blender, with your supervision.
"Banana Bonkers" offer a fruity alternative to punch! With bananas, grapefruit juice, and a little sherbet, it's a refreshing recipe that can double as a dessert throughout the summer.
While you may not miss the winter weather, this doesn't mean you aren't missing winter treats. If frozen hot chocolate sounds good, it's a simple recipe your child can put together using only four ingredients, topped with whipped cream.
Does your child have a sweet tooth? How about trying minty iced green tea instead? This recipe involves little prep and a few natural ingredients for a healthier beverage option.
Pick-and-Choose Grilling Options
If your child isn't able to help in the kitchen but would like to be involved in the meal, food stations are an easy way to let him or her pick and choose.
Skewers are a simple way to mix and match ingredients so the whole family can have what they want. Set up a skewer station separated into cubed vegetables, fruits, and proteins.
Some barbecue kebab ingredient options include:
Pineapples
Strawberries
Tomatoes
Bell peppers
Zucchinis
Chicken
Tofu
Shrimp
Hot dog stations leave a lot of room for creativity. Set up a station with mustard, ketchup, and relish, and then move these condiments to the side.
Some barbecue hot dog topping options include:
Fried zucchini
Chili
Crunchy peanut butter and bacon
Guacamole
Sautéed corn
Mango salsa
Feta, cucumber, and olives
Sunny-side-up egg
If burgers are your family's favorite summer BBQ menu item, not to worry! Burger stations are just as fun and can also bring out your family's meal creativity. You can stick with the traditional toppings, but here are some fun ideas for extra flavor.
Some barbecue burger topping options include:
Sliced avocado
Sun-dried tomatoes
Mac and cheese
Tater tots
Roasted red peppers
Pulled pork
Coleslaw
Portobello mushrooms
For a healthy dessert, throw together a fruit bar. A red and blue themed food station works well for a holiday themed summer party.
Some red and blue fruit options include:
Strawberries
Raspberries
Blackberries
Blueberries
Grapes
Apples
Cherries
Plums
Kid-Friendly Grilling Recipes
Get your child cooking! These easy recipes involve prep work that will get your child involved. Once you have a recipe picked out, have your child write down the necessary ingredients on a checklist. Go shopping together and have him or her check off each ingredient as you find them.
The Mexican twist on a grilled cheese sandwich. Family cooks can customize quesadilla recipes for everyone's taste. Help your child prepare the ingredients on the grill and put them together in a tortilla.
Grilled vegetable fajitas are a healthy alternative for a grilled meal. Let your child wash off the vegetables and beans, and place the ingredients in tinfoil to be put on the grill. If your child is older, let him or her cut vegetables.
Take it easy with a grilled mini caprese pizza. Your child will need little help with this simple recipe. With only four ingredients and a little spice, this recipe is great for younger children, and a unique twist to a caprese salad!
Zucchini boats involve a good amount of preparation, so this is a great recipe to share with your child. Depending on the age of your child, you can prepare the stuffing for the hollowed-out zucchinis and let your child stuff them, or you can give him or her more difficult tasks.
What summer activities are you and your child excited to try this year? Let us know in the comments below!
Related Posts