Music Smarts: Learning the Language of Music
byTracy Ostwald Kowald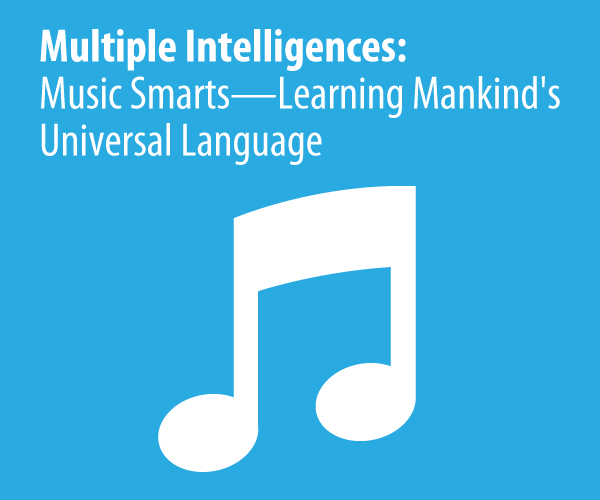 "Music is the universal language of mankind."
—Henry Wadsworth Longfellow
When Japanese violinist Shinichi Suzuki studied music in Germany, he struggled to learn the German language. By the same token, he noted that German adults found the Japanese language difficult. And yet, he observed, all Japanese children learned to speak Japanese very naturally and German children learned German with ease. How could this be?
Dr. Suzuki had discovered what would become the basis for his renowned Suzuki Method of teaching young children, which is also known as the mother-tongue approach. This approach takes the natural process of language immersion and applies it to music education. Surround children with music, Dr. Suzuki thought, and learning music will be as natural as learning the native language.
In other words, children who follow the Suzuki Method start developing their auditory-musical intelligence early on.
What are Music Smarts?
Auditory-Musical intelligence, or "music smarts," refers to the ability to use rhythm and melody. It's just one of the abilities included in the Theory of Multiple Intelligences developed by psychologist Howard Gardner. In this theory, intelligence is defined in a variety of ways. Each child may have strengths in certain areas, from nature smarts to people smarts to logic smarts.
People with strong music smarts thrive in surroundings full of music. They also notice sounds and rhythms in their everyday lives. The clickety-clack of trains on tracks, the sweet conversations between songbirds, the chiming of doorbells, and more influence the music-smart person as much as formal music does. Students with music smarts and word smarts can even find music in the rhythmic rise and fall of syllables in a Dr. Seuss poem.
Start a Journey of Musical Exploration
It's no coincidence that Dr. Suzuki decided to teach music to young children in the same manner in which they learn to speak their native tongues. Listening and exploring are at the heart of music. Besides pursuing music education, students with strong music smarts can benefit from:
Listening to music through headphones while reading.
Having their own workspace, allowing them to hum or whistle while they work.
Reading aloud, putting expression into narration and dialogue.
Experimenting with musical water glasses.
It's also important to experience music beyond the home or virtual classroom. My hometown of Appleton, Wisconsin hosts a music festival every year in late August. The organizers call it Mile of Music(opens in a new tab), as most events take place along a one-mile stretch of our quaint and thriving downtown. This year, I enjoyed several indie bands while I shopped at the Farmers' Market, and then my entire family attended a sing-along led by local music teachers and headliners from the festival. I felt like the world was full of music. What a wonderful atmosphere!
Families living in places without local festivals can still find music venues almost anywhere. Churches, coffeehouses, farmers' markets and fairs are prime locations to find musicians performing. You might even come across buskers, or street musicians, who find public places to play or sing and leave their instrument cases open to collect tips.
Music smarts are found in each child, not just the virtuoso. Integrating music into your children's lives can help their learning skills and make their days brighter.
Related Posts