Making a Virtual School Family Planner (Part 1): Learning Spaces, Roles, and Responsibilities
byConnections Academy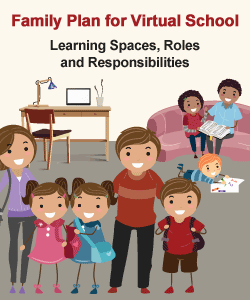 Any parent can tell you that if boundaries are not stated clearly, children will push the limits as far as they can. Likewise, when rules are not explained clearly, kids can turn almost any situation into a negotiation! In order to avoid situations like these when serving as your student's Learning Coach for online learning, you as a parent should consider starting each new school year by creating a family plan that details your home's virtual school rules.
In this post, the first of a four-part series, we'll get you started with ideas for how you can lay the groundwork for making your plan. We'll begin with a discussion of your student's learning space and of the new roles each of you will fulfill.
A Place to Learn
When learning at home, children benefit from having a well-planned workspace. If you have room, it's ideal to select and set up a dedicated home classroom area where you and your student will do school activities. But don't worry—if space is at a premium in your residence, you can make a small space work well! When choosing your home classroom, be sure to consider the following:
Is the area pleasant and appealing?
Are noise and other distractions minimal?
Is there adequate, well-placed lighting?
Is there room to store and organize books, papers, and supplies?
Are furnishings comfortable and ergonomic for computer use?
Is there a surface where kids can spread out their learning materials?
If you have young children, will you be able to see and supervise the workspace as you do your daily activities?
Experienced virtual school parents tell us that having a defined space for school also helps keep educational materials from taking over the entire home. You may also want to explore our Home Classroom Pinterest board to see inspiring ideas shared by other families.
Defining Your New Role
Don't make the mistake of setting rules for your student but not any for yourself. As any kid will tell you, that just wouldn't be fair! Getting your child involved in setting the "rules" for your new role as an online Learning Coach will not only appeal to his or her sense of justice, but it will also help your child understand what you will be doing.
Before starting your family discussion, you may want to do a bit of homework. The questions and links below will help you brush up on the important aspects of your role and consider the approach you wish to take.
Creating Student Guidelines
When creating parameters for student behavior, it's important to be clear and specific. Like a custom learning plan, your plan should also reflect your student's personality, preferences, known behavioral issues, strengths, and weaknesses. While there are as many variables as there are stars in the sky, the following questions should help start your thought processes:
What are the tasks that must be performed each day?
What are the tasks that must be performed weekly?
What tasks will you be responsible for together?
What kind of attitudes do you want to inspire in your child?
What guidelines would help your student focus?
What school activities does your child find challenging?
What school activities does your child find easy or fun?
If you have more than one child attending virtual school:
Will they study in the same space or separately?
Do you want students to collaborate on projects?
How can you avoid situations that spark sibling conflicts during virtual school?
In part 2 of this series, we'll continue to shape and refine your family plan. While this may seem like being back in school yourself, thinking through these things will benefit both you and your child, paving the way for a smooth virtual school adjustment!
Related Posts