Entertaining and Educational Ways to Learn About Different Cultures
by Dan Reiner
4 min to read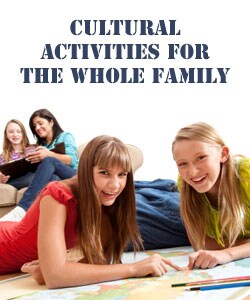 Since children have more time off during the summer months, they have more opportunity to engage in favorite summer activities with their families, such as picnics, pool parties, barbecues, and more. To break routine, create memories, and learn something new, stray outside your comfort zones by learning about different cultures!
Culture has a broad definition, so explore any unfamiliar arts, cuisines, or customs that interest you. Encourage your child to try some of these cultural education activities with your whole family and broaden your perspectives.
Dine at an ethnic restaurant.
This is your chance to expand your palate! See if there are any Thai, Lebanese, Indian, Greek, French, or Spanish restaurants nearby that you've never been to. Pick up a copy of the menu or take a look at it online ahead of time. See which dishes you'd like to try and research their ingredients and origins.
Try this: If you're more comfortable sticking to familiar foods, order your favorite Italian, Mexican, or Chinese dish. Ask a restaurant owner or research online to find out if your dish has been "Americanized," and discuss what that means. What's the difference between Americanized dishes and authentic food? Is your sweet and sour chicken served in China? Find out!
Prepare your own ethnic meal.
Find a few different recipes from a country or culture you're interested in. Cook the dishes for a family meal and follow that country's dining traditions. What time is this meal traditionally eaten? How is it served, and where?
Try this: After you've identified an Americanized dish, make the real thing and compare the two.
Surround your kids with geography.
The better your child's knowledge of geography, the better he or she will understand his or her place in this world. Craft projects(opens in a new tab) are a great way to help younger kids increase their global awareness, while popular board games(opens in a new tab) can teach children of all ages about the world.
Take a walk in foreign shoes.
Make a list of the things you usually do every day—where you go, what you eat, who you see. Next, open a map(opens in a new tab) or spin a globe and point at it without looking. After a finger lands on a country, make a list of the things you would do during the day if you lived there. If you do this as a family, share your foreign routines aloud.
Try this: Take a tour

(opens in a new tab)

of some kids' homes around the world and walk in their shoes to explore what it might be like to live in these houses.
Practice your foreign language skills.
To get familiar with a different language, label different objects around the house with their foreign names. For example, if you wanted to learn French, you could label the following items in your bedroom:
Alarm clock = Le reveil
Blanket = La couverture
Pillow = Le coussin
Chair = La chaise
Poster = La affiche
You can use tape, sticky notes, or strips of paper as labels, but feel free to be more creative.
Watch a movie in a foreign language.
After you become familiar with some vocabulary words in another language, choose a movie in which the actors speak that language. Try watching a scene without subtitles. Do you recognize any of the words? What do you think is happening? Rewatch the scene with the subtitles on to see how accurate your guesses were.
Try this: Watch an English-language movie you're familiar with and turn on a different language track, such as French or Spanish, to see how it compares to the English version. You can also watch the movie in English and turn on foreign language subtitles to read the translation.
Experience ethnic music and dance.
There are plenty of ways to learn more about music in other countries. Here are some suggestions:
Sign up for a dance class to learn flamenco (Spain), polka (Scandinavia), or the jig (Scotland or Ireland)
Attend a concert or music festival that showcases music from different parts of the world
Check out CDs of ethnic music at the library
Learn about your heritage.
Doing a little genealogical research allows you to spend time together and reach out to distant family members. In a notebook or on the computer, write down what you know about your ancestors. Which countries did they originally come from, and when? Call relatives who might have more information. Creating a family record is a pursuit you can work on for a long time, and you never know what you might discover!
Related Posts