A Fresh Perspective on Online School and Socialization
by Beth Werrell
3 min to read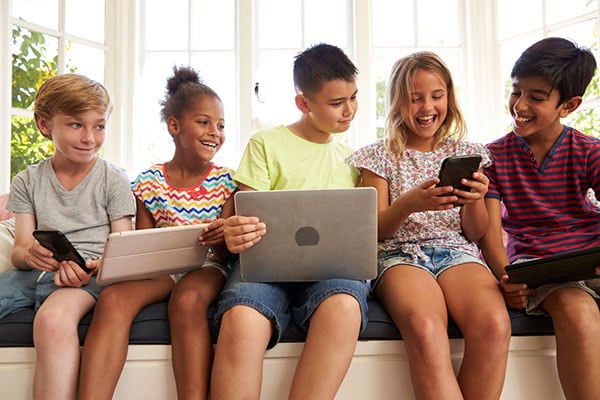 If your family is new to online schooling, you're probably wondering, How do online students develop the interpersonal skills they need to thrive in our society? After all, brick-and-mortar schools have traditionally played a major role in socializing our children by helping teach them the norms of acceptable behavior in a multifaceted culture.
Today, we're inviting you to consider that question from a slightly different perspective as we explain how Connections Academy®–supported schools empower parents to play a larger role in their students' socialization.
Different Types of Socialization
Many school socialization questions focus on the traditional classroom as the place where students learn to get along with their peers, resolve conflicts, and behave properly in different group and social settings. But the classroom isn't the only (or even always the most healthy) place for "socializing" students. Online school parents understand that.
Instead, families whose children attend virtual school leverage the flexible scheduling to customize their students' socialization against their interests, values, and needs:
One-on-One Interactions with Adults:  Understanding that the early years are the most important in a child's development, parents or other adult family members can get involved as Learning Coaches and partner with their children's teachers in setting behavioral expectations, helping students develop organizational skills, and teaching them to interact respectfully with others both online and in person.
While eating dinner, doing schoolwork, or hanging out, parents and Learning Coaches have the opportunity to spend more time just talking to their kids, reinforcing their family's values and instilling good conversational and social skills.
And parents and Learning Coaches don't "go it alone." They actively seek support from:
Online teachers and counselors who work with students in groups and, when needed, one-on-one, modeling mutually respectful social behaviors while teaching core academic skills
Adult members of their religious communities who share their values and serve as role models
Volunteer leaders in local scouting, community, sports, and arts groups who share their students' passions and introduce them to a wider (but still safe) world.
One-on-One Interactions with Peers: As you'd expect, there's plenty of one-on-one interaction online between our students. While other parents worry that the online world is a kind of Wild West, our parents know that our school environment is more of a "mild West"—with secure chat and "breakout" rooms for collaborating during virtual class sessions, well-established expectations for appropriate behavior, and zero tolerance for online bullying. In short, our students learn the best of online socialization with peers—not the worst.
Of course, in-person peer-to-peer interaction is essential to students' social development. To provide those critical face-to-face experiences, online school parents leverage the flexibility of online schooling to give their students more time to play one-on-one with siblings and neighborhood kids and develop lasting friendships through sports, arts, and volunteer activities.
Often, parents arrange playdates or social outings with other students met in the virtual classroom, on school field trips, or in one of the many online clubs.
Group Interactions: As most of us know too well, the ability to work and play well in small groups is a key to success in 21st century careers and society. With so much group work and play occurring online today, online school students may actually have an advantage over students in more traditional environments.
Online students learn to:
Collaborate virtually on small group projects, setting goals and negotiating work assignments and deadlines.
Take responsibility for the impact of their words and behavior online.
Work with students from diverse ethnic and socioeconomic backgrounds, as well as from a wide geographic area.
With parental encouragement and support, students then often put those group skills toward the greater good, volunteering in their communities, religious organizations, environmental groups, and local humane societies. They sharpen their social skills and their social conscience. They make a difference.
And isn't that how parents want their kids to "be socialized"?
How do you ensure that your children are properly socialized and prepared to work and play well with others?
Related Posts