9 Ways to Motivate Students to Learn
by Beth Werrell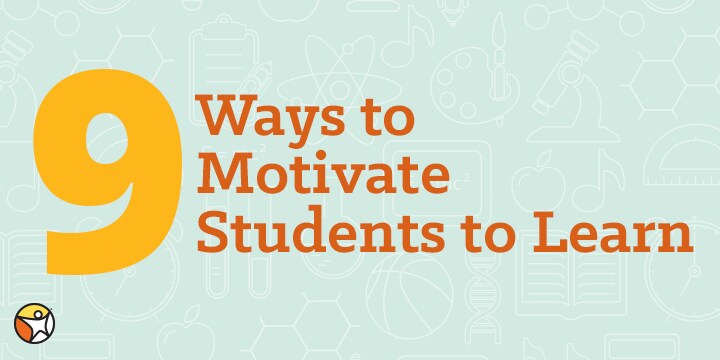 When people are cooped up inside, they become bored with the "same old" faces, books, and board games. And for kids, this frustration sometimes spills over into schoolwork, causing students to lose their focus and their ability to concentrate. It's human nature, and it's why when learning from home, kids need what we call a Learning Coach.

At Connections Academy®, a parent or other trusted adult fills the Learning Coach role, typically by structuring the day and keeping students "unstuck" and on task. And when online school, homeschool, or distance learning students lose their focus, it's time to flex Learning Coach superpowers and apply some teacher-tested motivation techniques. Here's nine handy tips to keep in mind:
1.
Put the student first.
Take a deep, cleansing breath and set your personal agenda or deadlines aside. Talk to your student about any motivation issues, and be sure to:
Be an active listener.

Keep an open mind.

Let your student speak as long as necessary.

Not interrupt.
2.
Show you understand.
Be responsive to what your student says during your discussion. Keep focused on the present moment. Also:
Make sure your student feels heard.

Ask follow-up questions to show your understanding.

Try to remain neutral.

Keep opinions to yourself to avoid influencing or invalidating your student.
3.
Stay positive.
Be careful of "knee-jerk" responses to your emotional, hot-button issues. Take an imaginary step back, a calming breath, and then:
Try to keep a positive facial expression (a smile can help).

Ensure your student doesn't focus only on what he or she thinks is the issue or problem.

Be mindful of your body language.

Be encouraging.
4.
Weigh the issue.
Keep things in perspective; not every topic is worth battling over.
Establish a 1-to-10 scale for the severity of the issue.

Rate the issue in your mind and "choose your battles" accordingly.
5.
Work as a team.
For a positive online school, homeschool, or distance learning experience, students and Learning Coaches should not be adversaries! Modeling good teamwork skills will help your student in the long run. Here are some ways to get started:
Collaborate with your student to brainstorm solutions (maybe take a short break or call the teacher or counselor for mediation).

Try to recall if this situation is similar to any previous issues. What was the solution then?

Create a list of possible solutions.

Honor any reasonable requests your student may have (like giving your student time to think or write down ideas).

Decide how to further inspire your student.
6.
Be your student's cheerleader.
Even during conflict, it's important to let your student know that you're on his or her side! Maintain a positive attitude. Also:
Review the list of solutions with your student.

Avoid negative language (can't, don't, won't, and shouldn't), and focus on how solutions could improve the situation.

Be enthusiastic.

Offer incentives to 

reward your student

 for a positive attitude.
7.
Set and achieve goals.
Teach your child that "if you fail to plan, you plan to fail!" Guide your student in setting goals  that are realistic and measurable:
Set a course of action.

Support your student in executing the new plan.

Let your student take the lead.
8. Instill confidence.
Encourage and inspire by telling your student you believe in him or her. And be sure to show your student your own "can-do" attitude!
Remind your student of accomplishments, past and present, to build confidence.

Offer insight on the problem from personal experience.
9.
Just do it!
As they say, "Talk is cheap!" Put your plan into action:
Set a time frame for the solution.

Measure results and ask if your student sees any improvement.

Celebrate any improvements and make changes as needed.

Determine if your student reached the goal; emphasize the plan that supported success.

Discuss preventive measures to reduce or eliminate similar stress in the future.

Restart the process if the desired result wasn't achieved.
To keep these motivation techniques in mind, you may want to print out a copy and keep it as a handy reference. Review these steps occasionally as a reminder of the many great tools you have in your Learning Coach toolbox! And remember, despite the current challenges and cabin fever, you have the power to keep your child learning!
Learn more ways to engage your child in learning from home by visiting our distance learning resources.
Related Posts