7 Tips to Encourage a Positive Attitude in Students
by Beth Werrell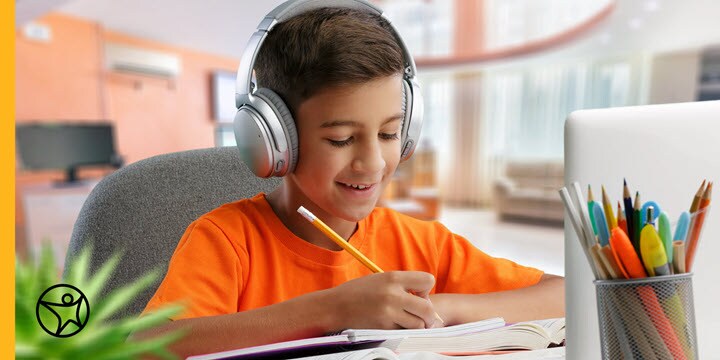 "Change your thoughts and you change your world."—Norman Vincent Peale, author of The Power of Positive Thinking 
Negative thinking is like a giant wall. It closes you in, keeps you from accomplishing goals, and stops you from moving forward in life—whether you're trying to learn, grow, or just be happy. 
A negative attitude will also hold a student back from his or her true potential. What's one way to stop this from happening? By encouraging a positive attitude. Having a positive attitude often leads to positive outcomes. 
Whether you homeschool, use a traditional brick-and-mortar school, or are enrolled in an accredited virtual school like Connections Academy—parents can play a huge role in teaching their school-age children how to think positively. In turn, those parents can have front-row seats for the amazing transformations that happen when k-12 students simply begin to believe in themselves. 
7 Practical Tips on How to Develop a Positive Attitude in Students 
We know for a fact that positive thinking is good for our physical, mental, and emotional health. Consider these strategies to inspire a positive attitude and teach your virtual school student how to think positively this year and beyond: 
1. Be an example. 
Model a positive, encouraging attitude in all that you say, do, and believe. Optimism is contagious. Positive thinking tends to breed positive outcomes, and if  your child sees positive outcomes from your attitude, he or she is more likely to want to experience the same positive outcomes. Show how optimism creates an ideal environment for happiness and how positivity influences the probability of success for any goal you may have. Sometimes seeing is believing, and there's no better place for your child to see it than within you. 
2. Create a positive learning space for your student. 
What better way to inspire optimism than establishing a hopeful environment? As you create a home school classroom bulletin board or planner, or decorate your child's online school workspace, post several positive quotes to keep motivation high. Here are some optimistic quotes for students. Maybe make it fun and turn your favorite positive quotes into kitchen fridge magnets. A positive environment can do wonders for eliminating negative thinking and encouraging healthy thoughts as your student tackles new learning challenges and opportunities. 
3. Help your student visualize positive outcomes for all scenarios. 
It's important to regularly plan goals with your student, and when doing so, clearly set the stage for what success looks like. How will it feel to accomplish the goal? What will the reward be? What does it mean to be successful? And why does it matter? Answering all of these questions can get your student excited about working toward the goal and will remind him or her of the positive outcomes to look forward to. 
4. Eliminate negative talk. 
When you hear your student say, "I can't do it," take a step back. Bring this negative attitude to your child's attention. Dive deeper into the meaning behind it. Ask questions: 
"Why can't you do it?" 
"What's holding you back?" 
"How can I help?" 
"What do you need to be able to do it?" 
From there, lay out a plan to remove those barriers. Show your child that you are in this together, and together you can come up with a plan to turn "I can't" into "We can." 
Additionally, volunteering or giving to someone in similar or more dire circumstances than yourself can have an impact on reversing negative attitudes into positive ones. Sometimes all that is needed is a shift in perspective.  
Find volunteer opportunities for kids of all ages, and help your student see past their challenges.  
5. Help your student change negative thinking patterns. 
As you bring your child's negative words and thoughts to their attention, make sure you're encouraging him or her to replace the negative attitude with a positive one. This is a form of  cognitive behavioral therapy, which is designed to change people's thinking or behavioral patterns that are linked to certain difficulties. In this case, the concept is simple: when you have a negative thought or reaction, notice it and replace it with a positive response. The more your student does this, the more positive their thoughts, words, and actions will be. 
6. Be your student's biggest fan. 
As an online school parent or Learning Coach, your attitude has a big influence on your child's self-confidence. Your belief in your student can help them learn to feel confident and self-accepting. Consider trying some of  these self-acceptance activities to make your child aware of his or her unique strengths and weaknesses. In turn, your home school student can begin thinking positively, developing self-esteem, and embracing his or her identity. 
7. Set up a rewards system that encourages positivity. 
It's not unusual for children to lack motivation to be positive, especially when they're dealing with a defeat or a sense of failure. Setbacks are a part of life, but how do you teach a child to keep their chin up when things are going badly? The answer may be a rewards system that provides positive reinforcement for optimism. Follow these steps to implement a rewards system for your youngster. 
Being positive 24/7 is difficult for most people, but that doesn't mean we can't try harder to maintain an optimistic attitude. Here are some online school students' and families' words of appreciation for the virtual school community to remind you why being a part of Connections Academy® is reason for a cheerful outlook.   
Related Posts