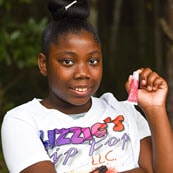 Before attending Connections Academy, Kalimah attended a large charter school. Her parents noticed that she was falling behind in reading. When they asked Kalimah what the problem was, she explained that she wasn't getting the support she needed from her local school. Kalimah's story is shared below:
Kalimah joined South Carolina Connections Academy in the second grade, and reveled in her freedom to explore new passions and projects. As a result, in June of 2020 Kalimah opened her own lip gloss brand, Lizzie's Lip Pop. Driven to follow her passions, Kalimah was able to utilize Connections Academy's flexible schedules, one-on-one support, and hands on learning she needed to pursue her dreams and excel in school.
Kalimah's parents saw a huge improvement in her schoolwork. Understanding her dreams and what she was trying to accomplish, teachers and staff worked closely with her to create a course schedule that she could easily fit into her busy day. They also incorporated Kalimah's business goals into her science lessons, helping her to understand the elements of chemistry involved in creating lip gloss and other cosmetics.

The school has taught me so much, and I am truly grateful. My whole family is grateful.

— Kalimah