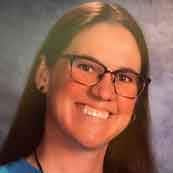 "Prior to coming to Connections Academy, I taught special education for five years in a brick-and-mortar school, and then spent a year as a case manager for adults with disabilities," said Ms. Murphy. "I also worked for 12 years with an autism strategies program, designing and implementing individualized treatment and education plans for children with autism in their homes. I've never wavered from my desire to be a teacher, and as far back as anyone can remember, I wanted to work in the education field. I took steps toward that goal starting with tutoring and respite programs when I was in elementary school.
"I love that I have the opportunity to work with students individually at their instructional level. I can spend hours on the phone or in a LiveLesson® session with just one student or a small group of students, reviewing a concept in different ways until they understand it. This allows them to get extra help without giving up their lunch or coming in after school—and doesn't hold up the other students who may already be comfortable with the concept.
"Our program encourages students to take more accountability for their education and to advocate for themselves. Without the distractions and interruptions found in a brick-and-mortar school, students are exposed to a more thorough and diverse curriculum to ensure a complete and well-rounded understanding of essential skills and standards.

"What makes Willamette Connections Academy special is the flexibility, transparency, and individualization. Since grades and assignments are accessible 24/7, there's never a question of how a student is doing."

— Ms. Murphy
"I am a fun-loving and energetic teacher who enjoys helping students find new ways to understand and use math concepts that may have been tricky in the past. I love football and am a huge Chicago Bears fan! I like all types of music and play guitar and bass. In my spare time, I'm usually hanging out with my friends and all the crazy animals that live on my mini farm."