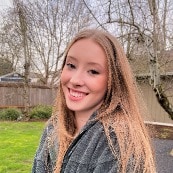 Why We Chose Willamette Connections Academy
"We chose Connections Academy due to COVID-19, and I'm so glad we did. The online Connections Academy system was very organized and super easy to navigate! I could see a list of every single lesson and assessment for the entire semester in the Gradebook. This is a big help because you get an idea of what the semester is going to look like from the very beginning.

"My favorite thing about Connections Academy was the flexibility. I was able to do the lessons whenever it was most convenient for me so I could schedule my schoolwork around other areas of my life."

— Jade
My Online School Experience
All of my interactions with teachers were positive and fun. My electives were really cool! I've taken anatomy, medical terminology, and health sciences, which have all been super interesting because I was planning on becoming a doctor after high school.
 
One of my favorite experiences was the virtual meeting we had with a veterinarian. He talked about the process of becoming a veterinarian and the kind of work he does on a daily basis.

My School Schedule
With Connections Academy, you have so much flexibility with when you do your schoolwork that you can arrange your schedule to accommodate work or sports or other activities. For me, I got more time to hang out with the world's cutest toddler: my baby brother.

Future Plans
I'm going to University of Oregon and I got a full scholarship. I haven't picked a major yet, but I'm going to be taking philosophy, human geography, information technology and Scandinavian the first semester. Connections Academy has helped me prepare for college because I've had to learn specific skills, like how to make a works-cited page. This is something I'll have to do in college and I hadn't done it for any of my papers before I came to Willamette Connections Academy. This is just one example, but a lot of assignments have taught me certain things I wouldn't have been prepared for if I hadn't practiced them now in high school."