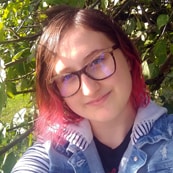 "I've been in connections academy for 12 years. I love the flexibility and the curriculum! i'm passionate about theater, and I enjoy working at our local theater and helping with their productions. Because the school is so flexible, it is really easy for me to do plays during the school year. I'm able to work ahead if I need to when I have to spend more time at the theater.

Science and American sign language (ASL) are my favorite subjects. I've always loved science, and ASL is something I've always wanted to learn. so far I'm loving it.
"What I love about Willamette Connections Academy is the flexibility and curriculum. I also love that I can receive the same public school education from my home."

— Hailey
I am also able to stay in touch with my friends at Willamette Connections Academy. pre-Covid, we would go on school field trips. I would also see them at the theater for productions. we communicate on social media and talk on the phone. I also love to go hiking with my friends or just get together to hang out and chat.
Willamette Connections Academy has helped prepare me for college. I understand how to be successful while learning online, which will help with online college classes. They've also given me plenty of opportunities to learn what different colleges or universities offer. I'm more independent thanks to this school, and I believe that will help me in the future."