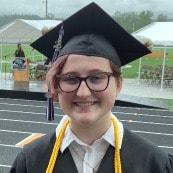 "The flexibility worked great for me in the program, because I was able to get a public school experience while being able to enjoy my favorite hobbies or hang out with my friends and family.
Several years ago I was very active in community theatre as a stage manager and designer. The flexibility of my online school has also allowed me to join in many community volunteer activities growing up, like food drives, coat drives, trash pick-up, and participating in Girl Scouts. 
"I love all the wonderful teachers and staff that helped me along my journey and being able to get a great education at my own pace with help from my family."

— Hailey
I'm attending community college majoring in Early Childhood Education, with a goal of becoming a preschool teacher in the future. 
Willamette Connections Academy prepared me for college tremendously. It has helped with knowing how an online platform works in college. I'm also more independent thanks to this school, and I believe that will help me in the future."

"The flexibility was nice, the curriculum is top notch, and I didn't feel rushed to get things done right away. I'm thankful to have had the option to be a part of this great program."

— Hailey