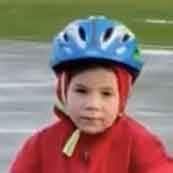 "I really like Connections Academy and math is my favorite subject. I also like doing my Arabic language lessons with my dad.

When I am done with my schoolwork, I can take play breaks to ride my bike or play soccer. I also enjoy the LEGO club at school and video calls with my friends so we can show each other our LEGO creations."

"My teachers are great, and I like that Mrs. Poulsen helps me learn. She is nice and she encourages me."

— Alex