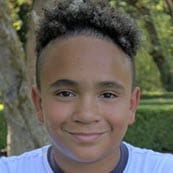 Tayesean Davis is currently a middle school student at Willamette Connections Academy. What he likes most about the school is the flexibility that allows him to engage in various activities, especially basketball. 
Why I Attend Willamette Connections Academy
I go to Willamette Connections Academy because I like being able to attend school around my schedule, instead of having to go into a building for school every day. 

This program works well for me because I like being able to do school around other things in my life, like basketball, acting, and modeling. I can go outside and play basketball when I want a break. If I have an audition, I can work ahead or do catch-up work the next day. 

My favorite subject is math because I'm good at it. My other favorite subjects are art and physical education because I love to draw and play basketball. 
My Experience Attending an Online School
My relationship with my teachers is pretty good. We have one-on-one LiveLesson® sessions when I need extra help. My teachers have been nice and helpful.  
I'm passionate about basketball and hope to be in the NBA. I can do schooling around things I like, so I play basketball every day in our backyard and in team leagues. I meet friends through basketball and other sports I've played over the years.  
I really like Willamette Connections Academy. I was briefly at another online school, and it was very confusing. This school has the best teachers.  
"I like that I can work ahead, then take a family day and have fun, or do extra work the next day to make sure I don't fall behind."

— Tayesean