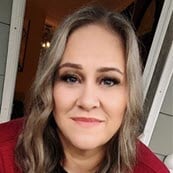 Dawn Davis is the parent and Learning Coach of her son Tayesean, a middle school student at Willamette Connections Academy.  
Why I Attend Willamette Connections Academy
I heard about this school years ago from a friend, when I was unsure of our plans for attending a brick-and-mortar school since one of my children has food allergies. I loved that it's an online school; would work around our schedule; and would provide books, a laptop, and everything needed to learn from home. I felt my kids would strive more, have less chance of discrimination, and be better able to manage food allergies.  
My favorite Learning Coach activity is helping my son with math. We both do a lot of mental math and are good at it. I like how we have that in common, and I enjoy working on math with him. 
I connect with his teachers in many ways — through emails, phone calls, texts, and popping in on his on-camera LiveLesson® sessions. I use whatever method is easiest for me at the time, and his teachers always respond.  
The Experience of an Online School
I love this school's curriculum and electives, and how the daily calendar is easy to navigate because it's on the dashboard when my kids sign on. I like how they check off assignments, then I check them off and can see they're doing their work.  
During the pandemic, my son was accidentally switched to another online school where he struggled, and his grades fell quite a bit. As soon as we came back here, his grades went back up and he was thriving again. The fact that his grades are mostly As and Bs proves to me that this school is the best fit. 
My son is very involved in basketball. He also loves to act and model, so I'm grateful he can adjust his school schedule to enjoy all the activities he's passionate about. He'd love to play pro basketball someday and also explore a career in acting and modeling. This school allows him to work around his busy personal life, to follow his dreams, and still get the education he needs.  
I get to see firsthand that my kids are moving forward; not like at traditional schools where you assume they are but only know for sure if they call you or when you get report cards. 
"The teachers here show they really care. I'm part of my kids' education and part of making decisions about what they learn."

— Dawn