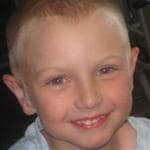 'Liam has a late birthday and is advanced in his learning. He learned to read at age four and was doing math at the same age. While trying to enroll him in a traditional school setting according to his ability level, we met opposition. In the bricks-and-mortar school, he'd be in first grade, but the MAP placement test showed that Liam's abilities put him two to three school years ahead of his age.
Liam was interested in Wyoming Connections Academy because it would allow him to work at his own pace. Liam likes the fact that he doesn't have to be in school for seven hours a day. He usually finishes his day's lessons in a couple of hours and has the rest of the day to spend with his little brother and parents. He was also excited to have the opportunity to take the elective courses. He really enjoyed learning American Sign Language.
In his free time, Liam enjoys traveling with his family and spending time outdoors. He's an avid rifle shooter and thinks that it'd be cool to be a sniper someday. He's been shooting a rifle since he was 18-months-old, and many times he can outshoot his dad. He also enjoys power tumbling and going to hockey games. He's not exactly sure what he wants to do when he grows up, but he's a got a few years to think about that. Just ask, he'll tell you.'

"What I like most about Wyoming Connections Academy is that I can work at my own pace!"
— Liam