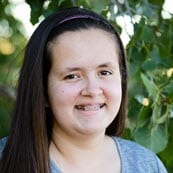 "Wyoming Connections Academy is different from my past brick-and-mortar school because I can be more challenged and get ahead of my schedule if I ever need to (or want to), which is something that isn't always easy in other schools. I've always enjoyed being able to work at my own pace throughout the years. In the past few years, my favorite subject has always been English or language arts, and sometimes history. This year I am really enjoying my Introduction to Medical Assisting class. I like these because the lessons fit my learning style and are always interesting to me.
I've had a good relationship with my teachers. They always answer my WebMails quickly, and they are always willing to help. It's cool for me to be able to keep in touch with some of my past Wyoming Connections Academy teachers too! I keep in touch with friends at various church activities throughout the week. I also have several pen pals throughout the country, and it is fun for me to write to them.
More than anything else, I've been passionate about music. I am taking piano lessons and violin lessons on a regular basis, and for violin, I have to travel an hour each week to get there. Being able to fit my school schedule around this is very beneficial as I really want to pursue music. I also enjoy babysitting, traveling, reading, writing, sewing, and art.
I would love to go to a college or university after I graduate so that I can become a nurse or someone of that sort. Having a variety of high school courses that have to do with learning about the body and the medical profession has helped me realize that this is really what I want to do."

"What I like most about Wyoming Connections Academy is that it challenges me to really work hard, and it gives me the ability to take more advanced courses."

— Emma