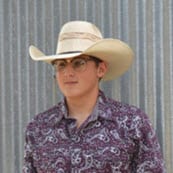 "I am passionate about trap shooting, bow shooting, 4-H, church, and riding horses. I shoot on the high school trap team, I am vice president of my 4-H club, and I am the youth board member for my church. I attend not only high school trap shoots but also ATA shoots and 4-H shoots.
I can manage my schedule around my interests by working ahead in my lessons and using good time management skills. Since I am able to work ahead and arrange my schedule around my interests, I do not feel rushed, and I am able to devote time to school and my activities.

"What I like most about Connections Academy is the academic plans, getting to work ahead, and getting to finish classes early."

— Tate
I have a good relationship with all my teachers. My favorite subjects are PE, art, English, and history. I like PE because I am able to stay active. Art is one of my favorites because I can draw and build things. English and history are among my favorite classes because I find them the most interesting.
Connections Academy has prepared me for the future by making me more responsible for my schoolwork and by helping me with time management. I am able to work my lessons into a schedule that works around all my activities. I plan to attend college at Texas A&M and major in welding or mechanical engineering."