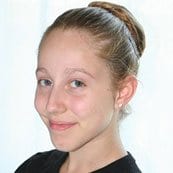 Abbigail started with MCA as an eighth grader. Her favorite subject is physics, and she applies her physics lessons daily to her ballet moves—force, torque, momentum and centrifugal force all contribute to the outcome of her ballet turns.
The flexibility of an online school has given Abbigail the freedom to attend ballet auditions, even as far as New York City. She can structure her school day to accommodate auditions, practices, and rehearsals. Abbigail has been dancing since the age of four, but developed a true connection with ballet when she began training under her current teacher, Ivy Forrest, who is a former professional dancer.

MCA's flexible schedule means I don't have to choose between my education and chasing my dreams.
— Abbigail