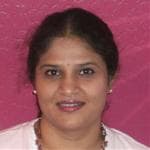 'Our daughter, Ria Cheruvu, is a genius-level, profoundly gifted child. She has a phenomenal memory and is highly advanced, multilingual, and multitalented for her age. She is also an actress with two potential upcoming Hollywood movies. Our family selected Arizona Connections Academy because the curriculum met Ria's intellectual needs, and the flexible schedule could accommodate her acting career.
I enjoyed being a Learning Coach at Connections Academy because I was able to participate in my daughter's education. The education management system allowed me to tailor the week's schoolwork based on my daughter's busy schedule, so Rita learned in her own unique way and her own pace. I loved the one-on-one setting with opportunities to go more in-depth on certain topics. The curriculum and textbooks provided by Arizona Connections Academy are superior to those of other gifted curriculums. The courses are also more interesting and fun because Arizona Connections Academy provides many resources such as BrainPOP®, Discovery Education™ streaming, and Teachlet® tutorials. These resources not only guide students, but also help the Learning Coaches to further understand the topics through a rich multimedia experience.

"I enjoyed being a Learning Coach at Connections Academy because I could participate in my daughter's education, and she was able to learn in her own unique way and at her own pace."

— Sunitha

I take immense pride in Ria being an Arizona Connections Academy graduate. I feel blessed to have been a part of Arizona Connections Academy, as it enabled me to coach Ria as she realized her dreams. I sincerely appreciate all the exceptional support from the Arizona Connections Academy teachers and staff who were extremely enthusiastic and eager to help.'
Sunitha earned a master's degree in management information systems and is certified in Montessori education. She volunteers for the Make a Wish Foundation and other organizations internationally. Sunitha was also nominated for an ATHENA Leadership Award in 2011.