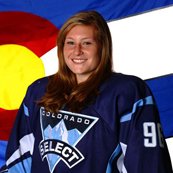 Lyndsey began playing hockey when she was five years old. She played on a boys' team until she was 14, and then switched to playing girls' hockey. Since there weren't any competitive girls' teams in Arizona, it became necessary for her to find a team out of state. Lyndsey played for the Colorado Selects for four years. Afterwards, she made the U18 National Hockey Team during her junior and senior year of high school.
Once Lyndsey made the National Team, her family realized that she really needed a school that could accommodate all of the traveling that was required for the team, as well as for her Colorado team. "Online school is not for everyone. However, it is the answer my family and I were searching for to help me reach my goals," Lindsay says. "It requires dedication, organization, and sacrifices, which have all been worth it for me." Lyndsey earned a silver medal in the 2014 Sochi Olympics with the U.S. Women's Olympic Hockey Team, and also recently graduated from Harvard University.

"I think I've learned more in online school because it allows you to become a more independent student over time. You have to go the extra mile to learn things on your own, and I think that's really helped me."

— Lyndsey

Besides being passionate about hockey, Lyndsey enjoys singing, songwriting, guitar, juggling, Broadway shows, painting, building things, and anything Disney.