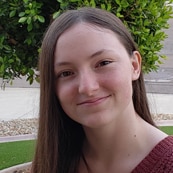 "My teachers were wonderful, and the school itself took good care of its students. However, once sixth grade came around, everything changed. Bullying became a major problem, and the teachers and school board did very little about it. As a result, my mental and emotional health deteriorated. I came home crying every day about things that had happened.
Then my mom took steps to find an online homeschooling program that would work better for me. A friend of hers suggested we try Arizona Connections Academy, and the rest is history.

"At Arizona Connections Academy, I can do so much more than I ever thought possible."

— Jenna

There are a lot of things that I love about this school, like the fact that I can work in the environment I want to. I tend to learn better in a quiet room where I can focus, and with Connections Academy, I can do just that. I also have a job that sometimes can interfere with my schedule, but I don't worry about getting schoolwork done.
Additionally, the people I work and learn with at this school are like no other. As VP of the National Honors Society (NHS), I've worked around many other students who want to do what's best for themselves and their community. They're all wonderful people with incredibly kind hearts. The teachers and advisors are especially wonderful and have proven that they only want to do what's best for their students.
My favorite subjects tend to be English and history. I have a great relationship with my teachers, especially Mrs. Markley, and my counselor/homeroom teacher, Mrs. Conaway. They're all incredibly helpful with ensuring that I understand the curriculum and assignments.
Now, I can enjoy meeting up with friends at either a restaurant or a service activity for the National Honors Society. A couple of years ago, I also attended Feed My Starving Children with my fellow NHS students.
At Arizona Connections Academy, I can do so much more than I ever thought possible. I work at my own pace, make wonderful friends who I've had great experiences with, and my confidence in myself has tripled. I'm now the Vice President of the National Honors Society because the school has noticed my efforts to do my very best. Unlike what my old school offered, I felt welcomed here, and I still do."