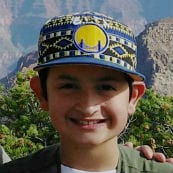 This is Bryan's first year at Arizona Connections Academy. He has attended public school, was traditionally homeschooled, and is now in a virtual school. He prefers the virtual school environment by far.
Arizona Connections Academy has also allowed our family to travel and experience culture and history. This past year we have been to forty states and twenty-one national parks. This experience has really helped Bryan grow and has sparked his imagination. Bryan hopes to be a junior ranger ambassador for the National Park Service.

"I love Arizona Connections Academy because I get to travel and spend time with my family."

— Bryan

It was really awesome that his history course was all about Native American culture and national parks that we were able to visit while he was taking the course! Furthermore, Bryan has been able to get to know some students from the local brick-and-mortar school through peewee basketball. He will take Navajo Culture as an elective right on campus!"