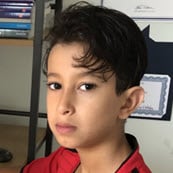 About Me
Talal is an elementary school student and transferred to Great River Connections Academy in the spring of 2019 because he was experiencing bullying at his previous brick-and-mortar school. He also has a medical condition and is an advanced learner and has benefited from the flexibility of online school.

My Online Elementary School Experience
Future Plans
I thrive with the independence Great River Connections Academy provides and the ability to work at my own pace.

— Talal