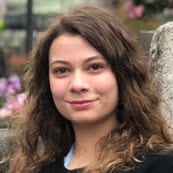 Why I Chose Great River Connections Academy
During my sophomore year I decided that a traditional brick-and-mortar school and its rigid schedule requirements were no longer working. I wanted more time to pursue experiences that would help me discover more about who I was and what I wanted to do. It was clearly time for a change.

In the Fall of 2017, I enrolled in Ohio Connections Academy, an online public charter school, and immediately found the freedom to do the things that interested me. It also reignited my love for travel. During my first semester at Ohio Connections Academy, I learned of an opportunity to study abroad in Ecuador, so I jumped at the chance.

"It's commonly thought that the only reason people switch to online school is that they already had grandiose plans in the making and their non-digital school didn't give them the time needed to train like an Olympic athlete or world-class musician," Amelia said. "I don't think those are the only people that can benefit from online education. Before I changed to a digital system, life was surviving until the next test day, and a constant feeling of emptiness because the school had stolen all my time and energy. I left brick and mortar education because I needed to learn the way I wanted to learn."

When I returned to the U.S. and went to enroll again in Ohio Connections for the 2018-19 academic year, I learned the school had reached its high school enrollment cap. For a moment I was very worried my senior year would be spent back at a brick-and-mortar school.

Fortunately, Great River Connections Academy, a new online public charter school, had just been approved and was accepting students. I enrolled and was pleased to see the teachers at Great River Connections Academy were as helpful and supportive as those I had at Ohio Connections Academy.
Future Plans