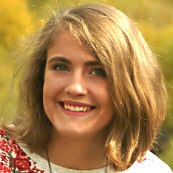 "Growing up, Katielyn was the kid who did everything that required her to travel a lot. She did acting, participating in dog shows, and figure skating. In the past few years, she switched from typical figure skating to theater on ice, focusing on ice shows. Currently, Katielyn is training to move up by participating in choreography contests and competing in National Theater on Ice competitions. Last year, we traveled to Santa Rosa, California, for the national showcase, and this year we traveled to Michigan.
Katielyn also travels for dog shows. She regularly travels around the Denver area every two to three months, and recently she traveled to College Station, Texas, for the Australian Shepherd National Competition (ASCA Nationals).

"Katielyn loves how easy it is to stay connected with her Colorado Connections Academy teachers"

— Katielyn's mom
Katielyn likes how Colorado Connections Academy allows her to work ahead in her schoolwork so she can continue to participate in the many shows and competitions she's involved in. She loves how easy it is to stay connected with her teachers through WebMail whenever she has any questions. Katielyn also enjoys all the field trips, where she's able to get to know her teachers and classmates at Colorado Connections Academy.
When Katielyn isn't competing in shows, she enjoys getting together with her friends and attending theater shows. She also loves doing event planning for birthday theme parties. After graduation, Katielyn would like to go to Johnson & Wales University in Denver for their hospitality and events program. She wants to continue skating and gain more experience in ice shows. Ultimately, her dream has always been to be a figure skating coach.