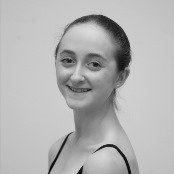 Hannah grew up in New York City, and then moved to L.A. before finally coming to Colorado. At age five, her family signed her up for weekly ballet classes. At seven years old, Hannah told her mother that she wanted to try something more challenging. Her mom researched and found a small Russian studio, which offered a three-week summer intensive—it was Hannah's dream come true. Though the instructors all only spoke Russian, Hannah could understand the French ballet terms. When she was in eighth grade, her family moved to Vail. Hannah was concerned that they would not find a new ballet program with the intense training that she wanted. After her mom searched again, they found a program in Summit where she could take lessons with company dancers. It was through this relationship that she was introduced to the Colorado Ballet and joined their summer intensive program; for six weeks Hannah participated in non-stop dance. Hannah participated in a year-round program with the Colorado Ballet. It is because of her demanding ballet schedule that her family knew they needed to explore alternative schooling options.
Hannah's family heard about Colorado Connections Academy from a classmate who was a ski racer. They were already speaking with three other schools, but decided on Connections Academy because it had the best test scores and the most rigorous course offerings. Hannah's favorite subjects were English and AP language. She says she would have taken more math and history classes if she could because she loves reading and writing. At ColoCA, she learned the importance of having good relationships with her teachers and to ask questions without feeling intimidated.

"I really like the program at Colorado Connections Academy because it offers me the most choices for a rigorous academic schedule. The school is also very flexible and works with my training program - it allows me to pursue my dreams of being a dancer."

— Hannah
After graduation from Colorado Connections Academy, Hannah hopes to either continue onto college or become a professional dancer.