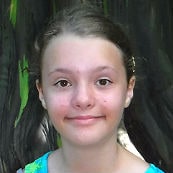 "Hallie is passionate about swimming, snorkeling, and traveling. She loves that Colorado Connections Academy makes it easy for her not only to enjoy these interests but also to explore other hobbies and complete schoolwork at the same time.
Her favorite subject is math, because she finds mathematical problems to be fun and challenging. Hallie loves applying what she's learned in her LiveLesson math class to real-life situations, like adding up the total when we're shopping at the grocery store. She has great relationships with her teachers and feels very comfortable communicating with them anytime by phone or WebMail.

"I love Colorado Connections Academy's flexible schedule because I can do the things that I love, like traveling and being with my family!"
— Hallie
Hallie enjoys playing with neighborhood friends almost every afternoon, but she also loves going on field trips, where she can meet her teachers and other Colorado Connections Academy students face-to-face.
At Colorado Connections Academy, the environment is much more family oriented than at the charter school Hallie previously attended. She is enjoying way more flexibility with her schedule, and she feels her lessons are more challenging. She really loves working at her own pace!
Sometimes her dad's work schedule changes and he will get different days off other than Saturday and Sunday. It's great to be able to adjust our school schedule to match his work schedule so we can have important family time!"