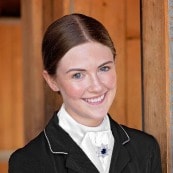 Why Her Family Chose Colorado Connections Academy
Grace will tell you that one of the biggest, most important facts of her life is that she is a cancer survivor. She was diagnosed with acute lymphoblastic leukemia when she was five, and went through chemotherapy for 2 and a half years.
According to Grace, having cancer and recovering from it helped shape her into who she is today and has made her stronger. She struggled with post-traumatic stress disorder (PTSD) and anxiety in her local brick-and-mortar school, so attending an online school has been incredibly helpful for her. 
Grace is president of the National Honor Society and valedictorian for the Colorado Connections Academy class of 2023.
Grace's Online School Experience
Grace hopes to be a veterinarian and volunteers at Elite Equine Rescue, where retired racing horses are given a second chance. Her first horse, Cloudy, helped her through her experience with cancer and gave her renewed confidence. Grace created a documentary, Running to Rehab, which won second place in a competition called A Voice for Animals. She has also pursued dance and volunteered at the local zoo.
An active advocate for cyberschool, Grace spoke at the Colorado Coalition of Cyberschool Families 20th Annual Day at the Capitol. She was among the many students, parents, educators, and legislators communicating the importance of school choice and online learning. 
Grace was accepted to the University of Colorado Colorado Springs, where she plans to study biology. She's a recipient of the Kane Scholarship, which is awarded by the Kane Family Foundation to high-achieving Colorado residents and covers the full cost of college tuition, fees, and books for up to four years. She is 1 of only 10 students to receive this scholarship.