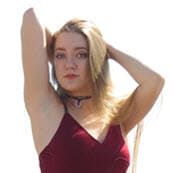 "Colorado Connections Academy allowed me to create my own schedule and work ahead in certain classes. My favorite subjects are English, astronomy, and psychology. I enjoy each of these subjects because they push me to think beyond myself and encourage an awareness of other perspectives. Every time I called a teacher, they went above and beyond to help me in any given situation.
I am passionate about performing; I love to sing and act, but dance is my focus. I attend dance competitions and conventions, which only makes balancing my school schedule more difficult. Despite the madness that dance brings to the table, Colorado Connections Academy was willing to work with me. I was able to create a personal schedule with daily to-do lists that kept me on track. I wouldn't have been able to make it through this past year if it weren't for this school's flexibility.

"I love Colorado Connections Academy because it sparked my love of learning."

— Bailey
In previous programs, I struggled to keep up in school with my fast-paced lifestyle. With Colorado Connections Academy, I never once worried about missing a deadline. The atmosphere created by the teachers and staff was a breath of fresh air and kept me excited about waking up and doing school every morning.
After graduation, I plan on attending Colorado Mountain College and getting my associate of science degree in geology while teaching dance and performing whenever I can. After that I want to travel the world and become part of a professional dance company."