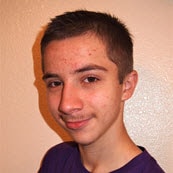 "It was a heartbreaking journey through the local school system. All Aidan's teachers thought his need for constant movement was a disciplinary issue, and Aidan was often ostracized by his peers. Unfortunately, there was no help navigating the options for gifted students. After years of turmoil through the public school system, Aidan is enjoying school at Colorado Connections Academy.
Aidan's favorite subjects are language arts, Latin, and history. He is an avid reader and has been engaged by the lesson content of his classes. He also enjoys all the field trips Colorado Connections Academy offers. Aidan has met friends and had a lot of fun experiences this year.

"Colorado Connections was our Hail Mary to get Aidan to graduation; now we are talking college possibilities!"

— Aidan's mom
Outside of school, Aidan loves Magic: The Gathering. He attends weekly tournaments at a local comics shop, where he occasionally meets up with friends from Colorado Connections Academy too. He loves video games and is in our local Young Marines chapter.
The Connections Academy staff have been great. I don't feel like the only one fighting for my son's success. The ability to work with the staff when he isn't understanding something has completely turned things around. They treat him with respect, reach out if they see he might be struggling, and seem to genuinely care that he understands and is able to move forward confidently. Aidan cares more and more about his work and finally believes he can succeed.
He is so excited for next year's classes and the fun electives he gets to take, including getting to continue in Latin. With so many positive interactions, Colorado Connections has been our saving grace."