What Is World Teachers' Day?
by Beth Werrell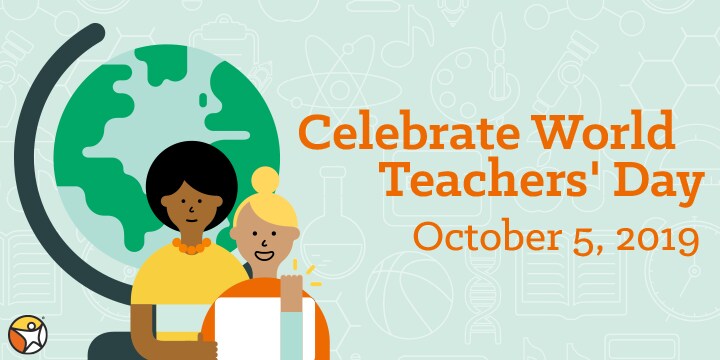 World Teachers' Day is a day of recognition for K–12 teachers around the world. First established in 1994, October 5 honors the anniversary of UNESCO's recommendations on teacher training, continuing education, and other areas that affect the teaching profession.
This year, the World Teachers' Day theme focuses on young teachers and the future of teaching. The day is an opportunity to celebrate teachers and strategize ways to attract and retain amazing teachers.
Connections Academy® teachers share their thoughts on how teaching online has enhanced them professionally and added value to their students' lives. These and other teachers are the foundation of what is great about our schools.
"The benefits for students at SCCA are immense; it is great to be free from the encumbrances of classroom distractions, for both teachers and students. Teachers are available at the stroke of a key or through a simple phone call. Students can work at their own pace without the constraints of a classroom, as well as repeat lessons that they struggled with to help them better understand the material or move more quickly if they have a strong understanding of the concepts."

—Susan Crooks, English Language Arts Teacher, South Carolina Connections Academy
"I come from a family of teachers; teaching has always been my dream job, and now I get to live my dream every day. I'm looking forward to meeting students from many different places with different interests at ARCA. The benefit of teaching at an online school vs. a bricks-and-mortar is that I have the opportunity to reach a wider group of students and have a far-reaching impact that isn't hindered by distance or time constraints."

—Lincoln Carlton, High School English Teacher, Arkansas Connections Academy
"I had always known that I would become a teacher. I love working with children and watching them learn. I have the ability to connect with them and help them become successful students. I love teaching at California Connections Academy because as a teacher I am able to give them one-on-one guidance and an education that they deserve. Teaching at Connections Academy enables me to connect with students on an individual and personal level. My number one priority is connecting with my students."

—Susan Bunnell Christensen, Elementary School Teacher, California Connections Academy
"My fourth-grade teacher, Ms. Carrol, made each of her students feel special and like they were 'the favorite.' She always had such a fun, positive attitude. I'll never forget how special she made me feel. Now that I teach at Reach Cyber, I love the connections we are able to build with our students and families. I also love anytime I get to teach students to love reading. The journey of following a student from a nonreader at the beginning of the year to a reader at the end is an amazing one!"

—Kari Shaffer, Elementary School Teacher, Reach Cyber Charter School
Take time on World Teachers' Day to reach out to an influential teacher in your life or your child's life and let him or her know how much the support of a good teacher has benefited your family!
If you are interested in learning more about Connections Academy and the amazing K–12 teachers in schools across the country, find a school near you.
Related Posts