Support for Parents Starting with Online School
byConnections Academy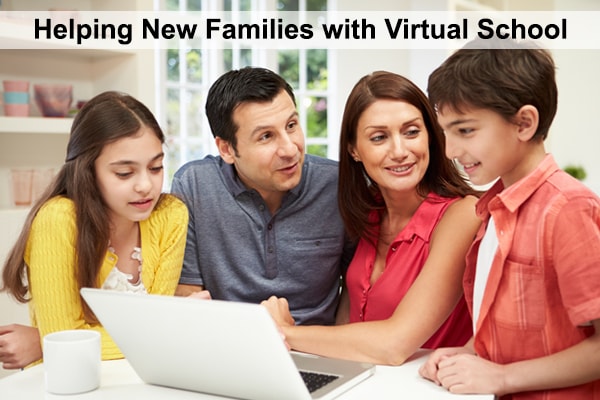 It's back-to-school season! For most kids, the new school year means it is time to get in the groove of learning again. And for families just switching to virtual school, the start of the semester signals that parents need to begin learning, too!
Although a parent (or other trusted adult) who is new to the role of Learning Coach for an online school student has much to absorb, a high-quality virtual school will offer plenty of support to help all families succeed. Many of the tips and strategies we recommend are based on years of experience working with students and Learning Coaches, as well as what families tell us works best for them. Explore the list below to discover the kind of resources online schools may provide to help parents guide their students in this rewarding method of at-home education.
Support for Learning Coaches
Becoming a Learning Coach for the first time can initially feel overwhelming—and occasionally, even an experienced Learning Coach needs support. While families who previously homeschooled their children typically have an easy time transitioning to virtual school, they also benefit from having a "safety net" available when they need it. Fortunately, a high-quality online school will provide ways for parents to learn and master Learning Coach skills!
At Connections Academy®–supported schools, families can find both inspiration and information through Get Started!, an onboarding and orientation program, and Get Coaching!, a program dedicated to helping Learning Coaches succeed in this important role. These programs provide parents with easy access to resources and help ensure that they are equipped with the tools and strategies to motivate and assist their students.
Get Coaching! includes Learning Coach Central, a special page located within Pearson Online Classroom, the online education system, that directs parents to a wide range of resources and social media sites, where they can connect with other school families. Families automatically receive Learning Coach Link, a monthly communication offering helpful hints and articles written for and contributed by Learning Coaches. They are also invited to attend regularly scheduled Learning Coach Resource Sessions, interactive and engaging webinars about topics relevant to online learning.
A Plan for Learning
At online schools, families typically have 24/7 access to the online curriculum, so parents actually know what their students are studying! For middle and high school courses, there is an online course guide, which provides an overview of the material covered in the course, plus learning objectives for each lesson. Although students in these grades tend to work independently, the Learning Coach might choose to use the objectives as a reference to quiz the student and make sure he or she is grasping the subject matter, or to help review before a test. In addition, many units include practice tests that will not be graded but that offer students the opportunity for extra preparation.
For elementary school, the course guides are built into the lessons. They provide not only learning objectives and background information but also lesson plans—step-by-step scripts of the school activities the student should do to complete the lessons. Parents can follow the links to videos or other educational resources incorporated into the lesson. They can also download any resource packets included (such as worksheets, rubrics, or graphic organizers) and open a helpful glossary of terms that can be used as flash cards.
If the student is struggling with a lesson, the Learning Coach may want to refer to handy tips to assist with comprehension. Suggestions are also available online for ramping up the challenge for more advanced learners.
A Collaborative Learning Community
Although a Learning Coach may want to be very involved in the student's learning, he or she does not need to be teacher! Many parents who are new to virtual school are relieved to learn that their student has a teacher (or teachers) only a phone call or an email away, ready to assist! At Connections Academy schools, teachers are certified in their states and provide instruction in the virtual classroom (video), evaluate student work, monitor progress, and step in with extra help if students are not making adequate progress. Teachers also collaborate with Learning Coaches to personalize the learning experience.
Learning Coaches and their students may also have opportunities to connect with other virtual school families through field trips, school parties, and social media.
Results and Feedback
Teacher feedback is another great source for Learning Coaches to draw upon. With the online grade book easily accessible, parents and students can review the teacher's comments on a school paper or project and decide how to improve on future tasks. They can check to see what answers were incorrect on a quiz, test, or other assessment, and then review the online text to reinforce concepts and find the right answers. Quizzes and tests can also be used to study for cumulative assessments.
Looking back at the grade book is also a great way to show students how far they've come in their studies. For example, seeing their writing samples from early in the school year compared to writing projects at the end of the year will help them realize how much they have learned and grown throughout the year, or from one year to the next. And, of course, a teacher's praise and a Learning Coach's "attaboy!" (or "attagirl!") are always welcome and help build a student's confidence.
Educational Resources
The days of having a small set of encyclopedias as a reference are behind us! Most public libraries now off their resources online, and a virtual school may also connect its families to resources within its own computer system and on the Internet. For example, Connections Academy parents and students have access to BrainPOP® videos, Discovery EducationTM streaming, Grolier OnlineTM, the EBSCO research portal, and much more.
Students can also connect to the school's proprietary interactive educational tools, such as the Guardians of Grammar; Lab Investigator: Virtual Dissection; Lab Investigator: Virtual Pan Balance; and online musical instruments.
A Complete Tool Kit
Here are a few additional resources that may be helpful:
While getting started can seem daunting, a supportive online school can help ensure that families switching from a traditional public or private school or from homeschooling are well positioned to make a smooth transition to virtual school. With access to helpful hints, great teachers, and a welcoming community, along with some determination, your family is sure to succeed in the long haul and enrich your child's education beyond measure!
What advice can you offer to families just starting out with virtual school?
Related Posts