Owning Books: Literacy and the Home Library
by Beth Werrell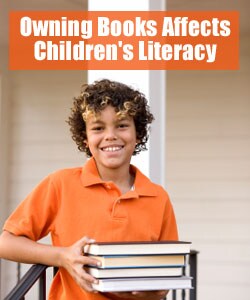 When my son Paul was three, he brought home a book from his preschool's tiny library. The book was Dr. Seuss's ABC, and he liked it so much that we read it over and over. In fact, Paul would return this book on library day only to bring it home again. We took the hint and bought him a copy of his own, along with a computer program that read the story and provided fun learning activities.
It wasn't a fascination with the alphabet or my interest in Dr. Seuss that led us to get Paul his own copy. We knew if Dr. Seuss's ABC was available in our home, we would read it together again and again without having to send it back.
Having their own books will encourage children to read more often. They internalize the feeling that "I am a reader" and apply that confidence to their academic and leisure reading. Owning books increases language development and provides practice in reading skills that lead to improved comprehension.
Children who grow up surrounded by books and other reading resources have an advantage in school regardless of their family income or their parents' educations. According to some studies, it may even increase the odds of a child's eventually graduating from college.
A home library creates opportunities for parents to read aloud. Having books available makes rereading favorites convenient and simple. Starting a collection of books at home also establishes the philosophy that reading is important. This idea can be reinforced by choosing books as gifts for your child on birthdays and holidays, as well as by including books when you pack for family vacations.
Growing Your Home Library
A home collection can start with just one book. If that one book is always available, a young reader can return to it repeatedly. While they don't need to be expensive, books for your child are an investment that will pay off in his or her success—success in reading, success in school, and more.
Bookstores and online retailers aren't the only places to obtain books. Consider these possibilities.
Thrift stores or yard sales
Check condition first. Does the book have all its pages? Winding up a mystery only to find the last chapter missing could lead to the wrong kind of suspense!
Online swap sites or in-person swap groups
You may want to consider setting up a book swap with other families that have kids around the same age as yours.
Museums
If an exhibit sparks a new interest for your child, look for related reading materials in the gift shop.
Theme parks and amusement parks
A book from the souvenir shop will last longer than a funnel cake or a funny hat.
Teaching kids to love books reminds me of one day long ago when the house was just too quiet. I went searching for my then-toddler son. I found him sitting quietly on his big sister's bed, "reading" her copy of Eric Carle's The Very Busy Spider. Even as a young child, he knew how to find pleasure from a book by following his family's example. With the help of a home library—and a healthy dose of encouragement—children can develop a lifelong passion for reading.
Related Posts