Mark Your Calendar for Back to School
by Beth Werrell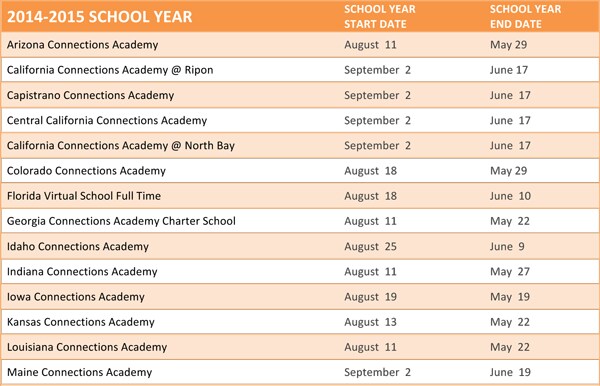 With the first day of summer and the Fourth of July behind us, back to school is the next big event in everyone's datebook. That's right—the first day of school is right around the corner!
Summer days fly by quickly, so why not mark your calendar now? We have provided a handy list of start and end dates for every Connections Academy school. If you are considering enrolling your student at Connections Academy, we recommend you start the enrollment process at least two weeks in advance of the first day of school.
Click the image below to see the full list of important start dates.
For returning Connections Academy families, please make sure to indicate in Connexus that your son or daughter will be returning for the 2014–15 school year. We suggest doing this in advance of your school's start date.
Experienced virtual school parents know that one of the best ways to succeed at Connections Academy is to make sure you and your student are prepared for the first day of school. The sooner you enroll, the sooner your student will be placed in their courses and their school materials will arrive at your home.
As part of the public school system, Connections Academy online schools are open for a typical 180-day school year. Virtual school students have the same (or similar) breaks and holidays off as their peers at bricks-and-mortar schools.
Online school students typically study about 30 hours per week at Connections Academy, with the required number of hours varying by state. While online education offers greater flexibility than traditional schooling, be sure to check with your student's teacher to set up a schedule that helps your student thrive.
We look forward to starting the 2014-15 school year with you soon!
Related Posts