Make the Most of Your Virtual High School Graduation Announcements
by Beth Werrell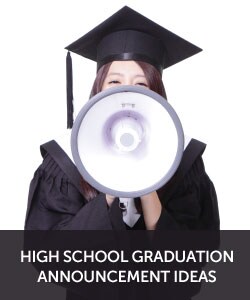 When virtual high school students approach the end of their senior year, they participate in all of the typical graduation activities that students do at brick-and-mortar schools. Virtual students can get their senior pictures taken, plan graduation parties, and receive their diplomas at a live graduation ceremony.
As a virtual school student, you can also send out graduation announcements to remind friends and family members that your graduation is coming up. Your announcements can also double as invitations to your graduation party. But that's not all—there are countless other ways to use printed graduation announcements. Get creative by trying some of the ideas below.
Announce Your Future Plans
Graduation announcements offer an effective outlet for sharing your future plans. On the announcement, you could include:
The name of the college or university you're attending
Your course of study or training
The professional opportunities you plan to pursue
Your plans for joining the military or another organization
Your new address and contact information if you are moving away from home
Your summer plans
Save It as a Memento
Sending graduation announcements that share your senior pictures are great for hanging on the fridge. But announcements have a lot more longevity when used in other ways. Here are some of things in which students can showcase an announcement:
A scrapbook
A memory box
A picture frame
A time capsule (write down your goals on the back of it)
A high school collage for your room or dorm room
Include a Thank-You Note
Use the graduation announcement to write a personalized note thanking important people for the support and encouragement they have offered throughout your education. You can write it on the back of the announcement, include the announcement in a thank-you card, or even print out graduation announcements that double as cards. Consider sending a thank-you to:
Administrators
Friends
Relatives
Coaches or organization leaders
Parents, Learning Coaches, and siblings have probably helped you put your announcement together, so you might want to create more customized thank-you cards for them.
Network with Your Contacts
Besides informing friends about your upcoming virtual high school graduation, try sending announcements to friends and acquaintances to expand your professional network. Whether you plan to attend college or pursue other opportunities, include a request for the following, if relevant:
Job shadowing opportunities
Career advice
Future recommendations
A discussion over lunch
If you write a note on the back of the announcement or enclose the announcement with a note in an envelope, make sure you explain your future plans and then express your interest in learning more from your contact.
Promote Your Online Identity
Your online identity is an important part of your professional image, so you have to present yourself in the best way possible online. Whether you have active social media accounts or not, now is a good time to use social media to engage in online networking. Here are some of the ways you can use your graduation announcement online:
Post the announcement on Facebook and include it in an album along with your senior photos
Share the announcement on Twitter
Create a professional Pinterest board on your profile and pin the image of your announcement to it
Upload the announcement to your blog or website, if you have one
Related Posts