Magnet Craft Activity: Making Positive Fridge Magnets for Kids
by Beth Werrell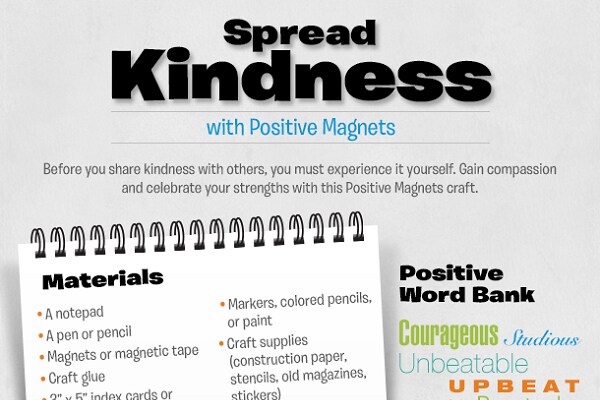 Despite our best efforts, disappointment sometimes gets the best of us. For students, it's normal to feel discouraged by a mistake on a test or a difficult assignment. During times like this, it will help your child to have a small reminder that he or she a unique, talented individual regardless of the occasional mishaps he or she faces.
If your child needs an encouraging reminder, consider making Positive Fridge Magnets for kids. These are personalized refrigerator magnets that display the qualities that friends and relatives see in your child. For example, one magnet might say "Brave" while another might say "Considerate." Once the magnets are decorated, you can hang them proudly on the fridge.
Acrostic Name Poems
The graphic above explains how your child can modify the Positive Fridge Magnets craft to create an Acrostic Name Poem. For more information, take a look at a teacher's explanation of acrostics and other poems.
Goal Magnets
This activity explores the abilities your child wants to develop rather than the ones he or she already has. Start by following the directions in the graphic to make another magnet. On this magnet, write, "Today I will be…"
Next, take another look at the list of positive words included in the graphic. Have your child write down a couple of positive skills to work on. If he or she tends to be messy, for example, your child could choose "Organized." Make magnets displaying the words he or she writes on the list.
When your child is finished, he or she will hang "Today, I will be…" on the refrigerator and choose another magnet to place below it. This will remind him or her to work on organization or another quality throughout the day. Switch the magnets often so your child remembers to work on different skills.
Kindness Spotlight
Another way to remind your child to share kindness is to make a Kindness Spotlight for the refrigerator. It involves making a magnetic photo frame out of Popsicle® sticks. Your child simply glues the four ends of the Popsicle sticks together. When they are dry, he or she glues a magnet on each corner. Popsicle sticks can be substituted with another material, such as cardboard or felt.
Encourage your child to decorate the frame with paint, stickers, buttons, or another craft material. He or she can use a marker to write "How I Help Others" on the bottom. The finished frame can display photos of your child performing acts of kindness. For example, the frame can hold a photo of your child raking the leaves for a neighbor or planting a tree to help the environment.
Besides encouraging your child's self-esteem, these refrigerator magnet activities help to teach children compassion.
Related Posts