Ideas for Field Trips Across the United States
by Beth Werrell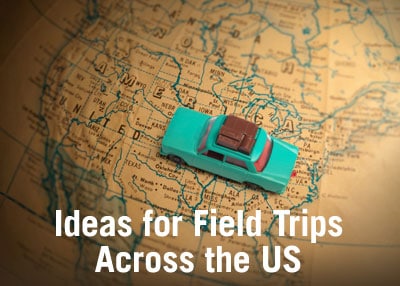 Across the United States, the weather is improving and spring here. Get ready to take advantage of spring (or summer) break by planning a family field trip!
There are many spring field trip ideas you can try if you'd like to go somewhere nearby, but if you want to do something special, consider going a little farther and visit a prominent museum, park, or other big landmark. Take a look at our list of field trip ideas throughout the five regions of the United States.
Field Trips in the Northeast
The Liberty Bell Center in Philadelphia, Pennsylvania. See the bell that has symbolized freedom in the United States for over 200 years.
Gettysburg National Military Park in Gettysburg, Pennsylvania. Use the official field trip planner to organize your trip to the park's Museum and Visitor Center, battlegrounds, and Soldiers' National Cemetery.
Carnegie Science Center in Pittsburgh, Pennsylvania. Explore exhibits, from Roboworld™ to the USS Requin submarine, that fit your family's interests.
Ellis Island in New York City, New York. Take a boat ride and see the nation's historical entryway—and the Statue of Liberty—up close.
America on Wheels in Allentown, Pennsylvania. Visit this museum to learn about the history of transportation.
Field Trips in the Southeast
Georgia Aquarium in Atlanta, Georgia. Meet over 100,000 animals, including dolphins, sharks, and otters, as you walk through over 60 exhibits.
LEGOLAND® Discovery Center in Atlanta, Georgia. Take your family to this indoor attraction that features models and attractions inspired by the Lego building toys.
Jarrell Plantation Historic Site in Juliette, Georgia. See what life was like on a cotton plantation during the 1800s.
Patriot's Point Naval & Maritime Museum in Charleston, South Carolina. Visit the Charleston harbor to see the USS Yorktown, a World War II aircraft carrier, and many other National Historic Landmark ships.
Kennedy Space Center in Cape Canaveral, Florida. Plan a trip to the visitor complex to touch a moon rock, meet an astronaut, and more.
Bluebonnet Swamp Nature Center in Baton Rouge, Louisiana. Take a unique nature walk through Louisiana wetlands and see birds, snakes, turtles, deer, and other wild animals.
Field Trips in the Midwest
National Underground Railroad Freedom Center in Cincinnati, Ohio. Stop at the Freedom Center to discover the history of the Underground Railroad and learn about freedom and human rights today.
National Mississippi River Museum & Aquarium in Port of Dubuque, Iowa. Explore hands-on exhibits such as the Carver Wet Lab as well as aquariums, nearby historic sites, and wetland boardwalk trails.
University of Wisconsin Geology Museum in Madison, Wisconsin. Check out fossils, dinosaurs, meteorites, and even a fluorescent rock and mineral display.
Ann Arbor Hands-On Museum in Ann Arbor Michigan. Dive into technology, engineering, science, math, and art through hands-on activities for kids.
Field Trips in the Southwest
NASA Space Center in Houston, Texas. See a full-scale model of the space shuttle and different historic spacecraft and spacesuits.
National Cowboy & Western Heritage Museum in Oklahoma City, Oklahoma. View art galleries and displays of artifacts and memorabilia from the Wild West.
Grand Canyon National Park in Arizona. Gaze into the canyon by visiting the South Rim, or take a hike on one of the trails.
Out of Africa Wildlife Park in Camp Verde, Arizona. Go on a safari to see animals from around the world living in natural habitats.
Museum of Indian Arts and Culture in Santa Fe, New Mexico. Experience Native American art and culture by seeing pottery, weaving, and other traditional art forms.
Field Trips in the West
High Desert Museum in Bend, Oregon. Encounter a real bird of prey, visit the otter exhibit, and investigate the museum's indoor exhibits.
Mesa Verde National Park in Mesa Verde, Colorado. Take a tour through cliff dwellings where the Pueblo people lived over 700 years ago.
San Diego Zoo in San Diego, California. Find your favorite animal among more than 650 species and subspecies.
Redwood Forest National Park in Crescent City, California. Go hiking, camping, bicycling, and kayaking, or simply take a scenic drive through the park.
Hoover Dam in the Black Canyon of the Colorado River between Arizona and Nevada. Take a tour of the 726.4-foot-high dam and drive across its 1,244-foot length.
Related Posts