Gratitude Journal Prompts and Writing Worksheets for Thanksgiving
by Beth Werrell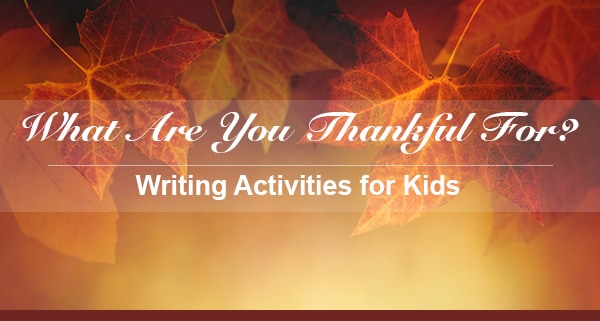 Expressing thankfulness can be hard for young children, but having them write down their thoughts and emotions can allow them time to process and organize ideas. Journaling is a simple way to encourage your child to think about what is important to him or her and what he or she is grateful for. Today we will provide you with some simple tools, namely writing prompts and a printable writing worksheet, to get your kids past the blank page.
First, download and print out our worksheet with simple writing activities, and then use the journal prompts we've provided below to get your child thinking about what he or she is thankful for.
Now your child can get journaling! Don't have a journal? If you are feeling crafty, make your own homemade journal together in just a few simple steps. Here are some quick tips for writing journals:
Don't be afraid to break the rules while journaling. This is your child's time to learn and express him- or herself.
Write what's on your mind and don't silence yourself. Journaling should encourage students to reflect on their feelings without reserve.
Be creative. If your child feels like drawing a picture or writing a poem to accompany his or her journal entry, that's great!
Accept that you will make mistakes. Have your child focus on expressing his or her feelings. If he or she makes grammar or spelling mistakes, these can be worked through later.
Thankfulness Journal Prompts for Kids
After completing the writing exercises in the activity worksheet, your child should be ready to write a journal entry about thankfulness.
The following ideas are thankfulness writing prompts to help your child get started:
Question Prompts
How does it feel to be thanked?
What kinds of actions should be thanked?
How do you show appreciation?
When was the last time you thanked someone?
How are you fortunate?
Finish the Sentence Prompts
The people I am most grateful to have in my life are…
Friendship means…
Thanksgiving symbolizes…
Being thankful means…
I am grateful for my ability to…
Story Starter Prompts
This year for Thanksgiving, I plan to show my gratitude by…
A world where nobody says "thank you" would be…
I forgot to say "thank you" to _____, and this is what happened…
The last time my parents thanked me, they did so because…
The most fun way I can think of to show someone gratitude without saying "thank you" is…
Journaling can take many different forms and help children reflect on their interests or concerns. For a gratitude journal entry, choose prompts that will lift your child's spirit and help him or her remember the many things to be thankful for.
How do you teach your child thankfulness? Share your stories in the comments below!
Related Posts