Fun Activities to Keep Kids Learning All Winter Long
by Beth Werrell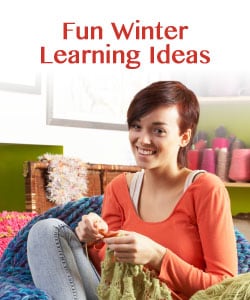 Winter weather brings with it storms, changes, and dynamite learning opportunities. My family in Wisconsin loves to retell the story of a visitor from a warmer climate who looked at our thermometer in panic, saying, "The thermometer's broken! It says zero! There's no temperature!" Learning that zero degrees Fahrenheit was indeed possible was a new experience for our guest. As you enjoy your winter break, I hope you'll use my family's story as inspiration to keep your children involved in learning. Here are some fun winter learning activity ideas to keep your students' minds active until the new semester begins!
Explore the science of weather.
"Weather" or not winter brings below-freezing temperatures in your part of the country, the season holds many opportunities to explore the science behind our climate. Here are some questions to spark your family's curiosity about the changes in our temperature and atmosphere that occur in winter weather:
Flock together in milder winters.
You may be thinking, "You've covered the cold. What about warmer climates?" At any latitude, look to your environment and see the science in your world.
Cozy times indoors.
If your family prefers an indoor climate, make the time spent inside valuable, too.
Learn to knit or crochet.
While historically these crafts may have been considered "women's work," knitting and crocheting are excellent ways to keep children of either gender busy and developing important skills. Both are easy to learn—and both allow "do-overs"! Here are a few points to consider:
Warm or cold, blizzard or rain, winter is a great time to learn. And having special winter learning activities planned in advance will help stave off the choruses of "I'm bored!" and keep everyone excited about their time together.
What is winter like in your part of the country—and how do you keep your children's brains active when school is out? Share your fun ideas in the comments.
Related Posts