Fill a Summer of Fun with Sidewalk Chalk Activities
by Beth Werrell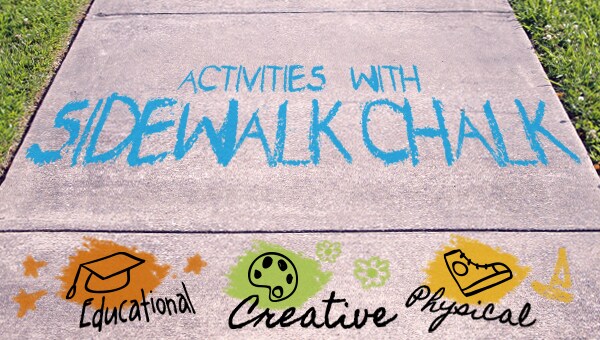 As summer approaches, creating a plan to keep your child active and learning is important. As you help to keep your child focused until summer break, start gathering ideas for the warm weather.
One item that can get you and your child through the summer months is sidewalk chalk. It's a fun, simple solution for summer days when no activities have been planned. With sidewalk chalk, your child can broaden his or her education, push creative boundaries, and keep his or her body moving.
Here are some ideas to get you started.
Brainy Sidewalk Chalk Ideas
Print out a constellation chart and have your child pick a few constellations. Then have him or her lay the star pattern on the sidewalk using pennies or other small objects. Connecting the dots with sidewalk chalk creates the full picture.
Draw life-size dinosaurs with real measurements using a dinosaur database and a tape measure. Have your child choose one large dinosaur and one smaller dinosaur, if space allows. Measure out the length and width of each dinosaur on a driveway or parking lot, and mark each measurement point. Then, using a photograph for reference, help your child draw out the dinosaur within your marked measurements.
Build your child's memory with an updated game of Simon. Start with four different colors of sidewalk chalk. Build out your Simon play area by sectioning out your colors into four sections in a circle. Be sure to leave an uncolored hole in the middle of the circle for your child to stand in. Then begin the game by saying a color and having your child step on that color before returning to the center. Repeat the first color and add a second. Test your child's memory by seeing how many rounds he or she can complete without forgetting a color or stepping on the wrong section.
Make simple math easier for your child with sidewalk chalk multiplication. Create a number line from zero to twenty. Have your child start by standing on zero. Then present a math problem, such as 7 + 2. Have your child walk to the seven mark and then add two steps to land on nine. This can also work for subtraction.
Creative Sidewalk Chalk Ideas
Create chalk dress-up dolls and let your child use his or her own clothes to create fun outfits. Make the outline for the dolls by tracing your child. Let him or her create the dolls' faces and hairstyles. Then allow him or her to choose outfits to lay on top of the doll outlines.
Make masterpieces with fizzing sidewalk chalk. All you need is cornstarch, baking soda, hot water, food coloring, and a few bowls to hold the different colors. Have your child mix the ingredients and then cover the sidewalk in art.
Let the artist in your child come to life with sidewalk self-portraits. Trace your child in chalk so he or she has an outline to work with. Then encourage your child to draw him- or herself, maybe with fun hair or clothes—whatever sparks his or her creativity.
Freeze a colorful chalk mixture to save for an exceptionally hot day of outdoor fun. This easy recipe can be placed in different shapes of molds for extra fun. Or place small toys and prizes in your ice chalk molds for an added surprise.
Physical Sidewalk Chalk Ideas
Draw out an obstacle course with your chalk. You can also add three-dimensional obstacles, such as buckets to jump over, for an added test. Time your child as he or she runs through the course. Challenge him or her to beat the previous time.
Encourage your child to create a hopscotch course that will be challenging. Create long spacing between blocks. Make the outline of each block thick for added difficulty, which can teach your child balance and coordination.
Bring out the competitiveness in your family with a game of four squares. All you'll need is a bouncy ball, sidewalk chalk, and four players. Have your child draw out a square, split it into four smaller squares, and number them one through four. Then get playing!
Create a sidewalk chalk maze for your child to navigate. Bring out the toy cars or stuffed animals to place in the maze, and have your child help them through. When your child has completed the maze, simply hose it off and make a new one!
What kind of summer activities keep your child engaged?
Related Posts