Are We There Yet? Answering Those End-of-School-Year Cries
by Beth Werrell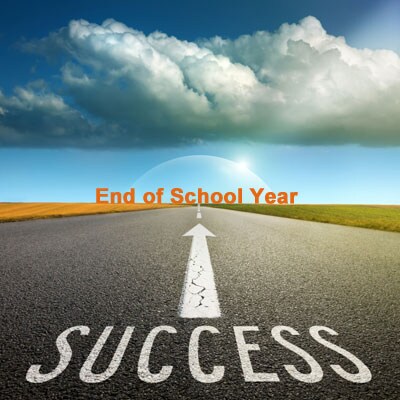 "Are we there yet? Are we there yet?" We're all familiar with those plaintive cries from the kids in the backseat. The end of the school year is a lot like those long car trips. Your student is ready for school to be over and for the summer to begin. But, as a Learning Coach, you have to encourage your students to stay engaged and "on the road" to their destination—a successful end to the school year.
So, just how do help your student "slay the slump in the road"? At Connections Academy, our school counselors say that it helps to keep the end-of-year in a broader perspective—to focus on helping your students develop the traits that will see them through many long projects, school years, and car rides ahead.
Think of it as ending the year WISEly.
Here's what we mean:
"W" stands for Willpower: At the end of any long project or school year, there's a natural tendency to slack off. (For high school seniors, there's even a name for it—"senioritis".) At such times, it takes sheer Willpower to see things through to the end.
But your student doesn't necessarily know that yet. To help your students understand their emotions and develop the willpower they need, you can:
Listen respectfully to their feelings about the end of the school year.
Explain that the "slump" is a normal problem and willpower is a viable solution.
Celebrate past accomplishments that demonstrate your student's willpower (e.g., persisting with a difficult assignment or a boring but necessary task).
"I" stands for Initiative: When students are struggling with end-of-year boredom or lack of motivation, it's actually a great time to inspire them to reach within themselves and take the Initiative to manage their own learning processes and emotions.
Taking a few cues from the 9-Step Motivational Model, you can encourage your student to:
Visualize his or her own end-of-year goals and identify any issues obstructing those goals—in this case, the issues contributing to the slump.
Brainstorm ideas and create a personal action plan for "slaying the slump."
As the Learning Coach, you'll need to support your student's plan while still allowing him or her to take ownership of the process.
"S" stands for Stamina: Psychologist, neurobiologist, and educator Angela Lee Duckworth defines stamina, or "personal grit," as "sticking with your future, day in, day out … and working really hard to make that future a reality." According to Duckworth's research, this kind of grit and stamina is a more reliable predictor of academic and professional success than IQ or talent. So, the end of the school year is actually a great opportunity to help your student strengthen this critical quality.
While the research isn't yet in on exactly how to make students more "gritty," here are some thoughts on a grittier end-of-year from our counselors. You can:
Help your student put any perceived "failures" into the right perspective with examples of some of your own or famous people's "failures."
Encourage students to understand that, to paraphrase Duckworth, education is a marathon, not a sprint.
Cheer on your students as they near the finish line.
"E" stands for Enthusiasm: The ability to maintain enthusiasm over the long haul is an acquired skill. As a Learning Coach, you have the opportunity to model creative ways of regenerating enthusiasm right up until the last day of class.
To rekindle your enthusiasm and your student's, you can:
Turn test reviews into quiz shows or games with inexpensive prizes.
Create new, warm-weather rewards for completing work on schedule or ahead of schedule—whether it's a midweek picnic in the park or a backyard campout.
Mix things up at recess time by improving cognitive skills with sensory integration activities.
Create a tear-off calendar of final assignments due, and a have mini-celebration to accompany each completed task.
By helping your student finish the school year WISEly, you can ensure he or she develops the qualities needed to succeed in the many school years and projects ahead.
Related Posts