9 Pinterest-Inspired Winter Learning and Craft Ideas for Kids
byConnections Academy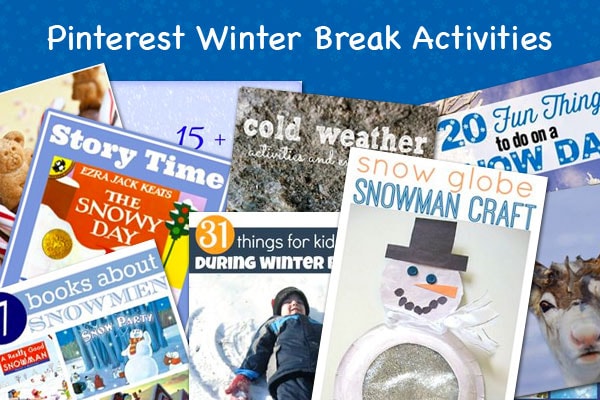 Believe it or not, it's that time of year again—endless food, festive parties, gift giving, and family gatherings! This joyful season is especially exciting for kids, who have most likely been anticipating the winter celebrations for months. But how do you motivate your student when the holiday fun is over and it's time to get back to the daily school routine? Luckily, the learning never has to stop! There are plenty of enjoyable winter learning activity ideas available on Connections Academy's Pinterest boards that you can do together over the winter break to keep your child stimulated and excited about academics.
How Does It Work?
For those of you who are not familiar with the site, Pinterest is a "visual discovery tool that you can use to find ideas for all your projects and interests." It serves as a useful virtual bulletin board to store all of your creative findings! The assortment of inspirational ideas and projects are broken down into different themed "boards," which you can choose to "follow."
"We are using Pinterest to find some creative craft ideas so we can decorate our home for the holidays. From making hand turkeys to making snow, we find a way to incorporate math, reading, or science into our fun activities—and, of course, we do work outside on a beautiful day!"
~ Kelley Christiansen, Louisiana Connections Academy parent
What Do You Look For?
We curate a number of helpful and interesting boards that, among others, include useful tips for parents and Learning Coaches, recipes to get the brain fueled for learning, and valuable learning resources.
For the utmost use over the holiday break, follow and explore the following boards: Winter Wonders, Seasonal Learning Ideas, and Kids Arts & Crafts Activities. Below are just a few fun sample activities found on each board.
Winter Wonders
Get-off-the-Couch Games
Kids tend to get lazy when they don't have to a follow a regular school schedule over the holiday, especially when the weather is not optimal for playing outside. Explore these 18 active "get-off-the-couch games" to get your child's heart pumping indoors. These games include things such as "Hip Waddle," a humorous game your child can do with a sibling or friend by placing a ball between each other's hips and attempting to walk across the room without dropping it.
Snowman Cupcakes and Cookies
It's inevitable—the holiday season brings plenty of tasty sweets! Get your child involved with the baking process by following some fun winter recipes for snowman cupcakes and cookies. Not only will he or she have fun decorating the snowman, but also you can sneak in a math lesson by asking for help when you measure all of the ingredients.
New Year Wishing Wand
Encourage your child to make appropriate New Year resolutions by following some basic instructions to craft a New Year wishing wand. This activity will motivate him or her to work toward a specific goal in the year ahead.
"Holidays are busy, and we adults often try to cram far too much in during a short period of time. Having kids help out is a win–win. If they are part of the planning and execution, they feel that sense of accomplishment … The more your kids are involved, the happier everyone is—and the more peaceful and fun-filled your holidays will be."
~Denise Neff, Connections Academy parent
Seasonal Learning Ideas
The Science of Sledding
Looking to make sledding even more exciting for your child? Incorporate a little visual learning into the ride by teaching him or her some scientific facts along the way. This will prove that science can be both fun and educational!
Outdoor Winter Learning
Boost your child's outdoor fun with these creative, educational activities. Some activities include searching for animal tracks and snow hockey or golf. Make it a family winter adventure!
15 Picture Books about Snow and Winter
Allotting some time for reading each day can be very beneficial for your child. Integrate the holiday into his or her reading material with these 15 picture books about snow and winter. Fun winter topics won't make reading seem so bad, after all!
"We will continue to read daily. I have found some free printable themed word searches online. We continue fluency during the holiday, as well."
~Ashlea Roberts, Louisiana Connections Academy parent
"We also do fun art projects related to the holidays, as well as science experiments in the kitchen."
~Stacy Taylor, Indiana Connections Academy parent
Kids' Arts and Crafts
50 Crafts and Projects Using Recycled, Repurposed, and Upcycled Cans
If you do a lot of cooking over the holidays, you will most likely have a lot of empty cans left over. The good news is that they don't have to go to waste! Let your child use them to make some resourceful holiday decorations!
Weather-Themed Crafts and Tutorials
Is it rainy, snowy, cloudy, or windy? Scroll through these inventive weather-themed crafts and tutorials and have your child create a unique craft to go along with the weather. He or she will gain some worthwhile weather knowledge while having fun!
10 Simple Handmade Gifts from Children
Giving gifts over the holiday may be a bit frustrating to children who don't have the means to purchase something special. Instead, inspire them to get crafty by creating their own handmade gift! Your child will feel accomplished after working hard and making someone he or she loves smile. With a little effort and creativity, you can make great family memories while keeping kids sharp.
What are some learning activities you found on Pinterest to keep your child motivated about learning over the winter break?
Related Posts