3 Steps to Easy Computer File Organization (including a Desktop Wallpaper)
byConnections Academy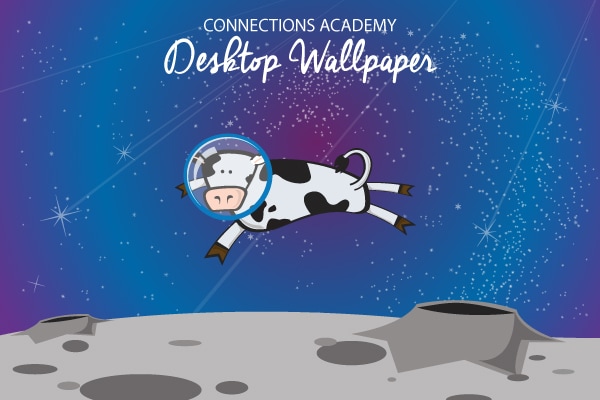 Organization is an important part of your child's education. It keeps at bay the clutter that can slow students' progress. While maintaining your child's work space and keeping up with computer maintenance is essential, these are not the only ways to streamline your child's online education and stay organized.
Below are some tips for keeping your student's computer files organized through a personalized computer desktop layout, a patterned file-naming system, and logical folder organization. We've also included a free space-themed desktop wallpaper for extra organization.
Step One: Be Smart about File Names
Your child's file names should all follow the same structure. Important information your student should add to file names includes:
The subject or specific course of the assignment, such as English or Modern Literature
The specific topic, such as fractions or division
The type of assignment, such as notes or homework
The date the assignment was created, including the month, day, and year
Assignment file names should also include underscores or dashes to separate words, but your child should avoid using spaces. For readability, capitalize the first letter of each section.
An example of an efficient, easily accessible file name would be, "LanguageArts_AmyTan_Notes-8-25-2015." That way, all files related to a specific subject matter or course like "LanguageArts" will automatically group together in the folder. If your student is working on an essay, he or she could use the date in front of the file name to organize different versions of a draft by date instead—for example, "2015-8-25-LanguageArts_AmyTan_Essay".
Step Two: Create a Folder System
A well-laid-out folder system can make your child's assignments easily accessible and keep his or her mind clear. Here's a folder hierarchy solution to implement within your child's "My Documents" folder that may work well for your online learner:
The first folder tier should be separated by grade level. If your child is a long-term online learner, this can help him or her keep track of each year's assignments and allow easy access to the current year's files. This also makes it easy for your student to access old assignments for reference.
The next tier of folders should be by subject or course name, depending on your child's grade level and school structure.
The last tier of folders should be separated by assignment or file type, such as notes, homework, in-class work, etc.
Once your child finds the correct folder, finding the file he or she needs should be easy with your new file-naming system.
Step Three: Find a Unique Desktop Layout
Your child's desktop layout should include shortcuts to his or her most commonly used folders and applications for easy access. Having multiple sections on the computer desktop with folder and software application shortcuts can streamline the file-searching process.
Install our free space-themed desktop wallpaper calendar to spark your child's interest in science education. With four shooting-star dividers, we designed this layout to help your student keep track of each file, resource, and assignment more efficiently.
Once the image is downloaded onto your child's computer, you can easily change the desktop background using the control panel for PC users, or system preferences for Apple users, on your child's computer. Locate the desktop background and screen-saver preferences tab, then browse downloaded images within this tab to change the background image. Depending on your preferred web browser, you can also use the right mouse button and choose "set as desktop background" from the menu.
Space-themed desktop wallpaper calendar: August 2015
Find your screen resolution and download our free desktop wallpaper calendar.
768x1024, 1024x768, 1280x800, 1280x1024, 1366x768, 1440x900, 1600x900, 1920x1080, 2880x1800
Below are some ideas for ways to section off your child's files and applications:
Educational games for when your child needs a break from class work
Educational resources, such as writing style guides and supplemental readings
Course folder shortcuts so that your child can find each assignment quickly and efficiently
Calendars and other organizational applications to keep your child on track
What organizational techniques keep your child's time on the computer in check?
Related Posts