2019 Online High School Graduates Look Forward to Bright Futures!
by Beth Werrell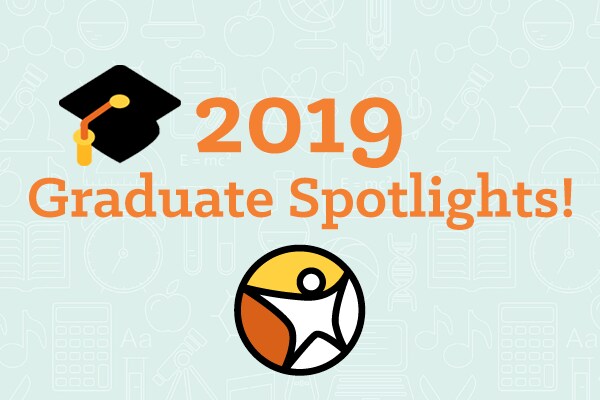 It's graduation season and Connections Academy-supported schools nationwide are gathering for in-person celebrations to recognize past achievements while looking forward to the future. The class of 2019 has graduated a talented and motivated group of students, including:
Ohio Connections Academy graduating senior Christian T. continues his educational journey in the fall at Baldwin Wallace University's musical theater program, which is considered one of the nation's top bachelor of music programs. It's showtime for Christian. As the saying goes, break a leg!
Chloe F. enrolled in California Connections Academy @ Capistrano in 7th grade and took a coding class that spurred her to design artificial intelligence and robots, like Cozmo. Now she's a senior ready to graduate and attend Santiago Canyon College, studying artificial intelligence and computer science. Way to go, Chloe!
While completing high school at Ohio Connections Academy, Eliane J. also jumped ahead and earned college credits from the Ohio State University Columbus campus. She starts there this fall with a provost scholarship!
During her time at Ohio Connections Academy, Brooke Y. earned almost two years of college credits on top of her high school diploma! She plans to attend Ashland University to pursue a degree in marketing with a minor in psychology.
Student body president Garrett K. has attended Oregon Connections Academy for almost all of his 1st –12th grade education. After graduation, he'll attend Chemeketa Community College with the goal of getting into the US Naval Academy.
Oregon Connections Academy National Honors Society copresident Greg L. is graduating high school a year early and starting his college major in math at CalPoly Tech in San Luis Obispo, California, as a sophomore after racking up 32 credits at Oregon State over the past few years! This amazing grad from Corvallis says online school prepared him for the future by always challenging him to strive for excellence.
California Connections Academy Central grads Kayla R. and Sarah R. are gearing up for their move to the desert! The twins will be attending the University of Arizona in the fall, where Kayla will study elementary education and Sarah will pursue a degree in medicine. Both sisters won a proclamation from the City of Porterville for their humanitarian and volunteering efforts, and they received the Willie McCovey Award for all their volunteerism.
Indiana Connections Academy student Caleb B. was so inspired by research he'd done into branches of the military, he decided he wanted to join the United States Marine Corps after graduation. Caleb will head to basic training in August.
Ohio Connections Academy graduating senior Kody G. got hooked on designing and building Star Wars movie replicas (like a functioning R2-D2) as a way to pass time in the hospital getting treatment and recovering from a long illness. After he got better, Kody wanted to do things that would put a smile on people's faces, especially children. So he uses his talent to build props and replicas for people to enjoy. He now wants to pursue a career in robotics or engineering, or maybe even in the movie industry for a company like Disney.
Zion S., a standout baseball player, has an exciting end to his high school career at Reach Cyber. Zion will enter the MLB Draft (June 3–5) and receive his high school diploma. Depending on the draft outcome, Zion will either play professional baseball or attend the University of Pittsburgh on a full athletic scholarship. He plans to study engineering.
A country singer and songwriter, Sam S. has enjoyed his Reach Cyber experience. With its flexible learning schedule, online school has allowed him to continue his education while traveling on the road as a performer headlining at concerts, festivals, and shows. After graduation, Sam plans on continuing to pursue his music career and playing gigs.
Congratulations to all class of 2019 graduates!
Related Posts