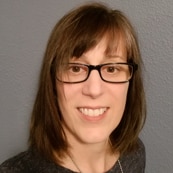 "I've worked and lived in both urban and rural areas in Oregon. What I love about being at Willamette Connections Academy is the opportunity to work with students from across the state who come from different types of communities. These students bring their experiences and differences and create a greater diversity of ideas and conversations in the classroom. This shared experience makes our Oregon communities closer.
"So many teachers go into education because they loved school. I didn't always have a great school experience. I struggled in classes and had a hard time understanding my teachers. When I got to college, the new educational environment triggered my love of learning, and I never looked back. I realized I had a passion for understanding why and how we learn. I became a teacher because I wanted to make connections with students and hoped I could help guide them into developing their own love of learning.
"When I started at Willamette Connections Academy, it was immediately apparent that the staff cared about giving students the opportunity to learn in ways best suited for their educational needs, and that they offered every student the best learning experiences. Unlike in traditional schools, Willamette Connections Academy teachers get to focus on the way individual students learn.

"I've loved watching my students grow in my time as a teacher and an administrator. And I enjoy seeing their lives as adults and their successes."

— Ms. Chitkowski
"Willamette Connections Academy provides more opportunities to help students when they need it, and gives them the chance to amplify their voices in a way that brick-and-mortar classrooms can't. Students can take ownership of their learning in partnership with their school community."