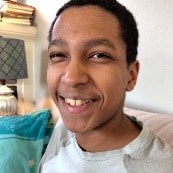 Why I Attend Willamette Connections Academy
"The truth is, I didn't know anything about Connections Academy before I joined except for the fact that it is an online school. My mom enrolled me and my brother at the end of fourth grade. When the summer break was over, that's what we started doing.
 
What I like most about Willamette Connections Academy is that I can decide when I want to do my work and in what order, instead of being told what I'm going to do. My favorite class is science because I'm interested in science, and in that class I learn new things. For example, this year I learned a lot about the rock cycle.

"What I like best about Connections Academy is the free time I have for my own research."

— Wasswa
My Online School Experience
The teachers give me the information I need to do my work, I do my work, and turn it in. That's all there is to it.
 
In my own time, I like to research science and history. I also like to play video games related to those topics, for example—Kerbal Space Program, Hearts of Iron IV, Crusader Kings III, and Total War: Rome II. I do this from 6:30 a.m. to 9:00 a.m., then it's school until 3:00 p.m., then back to my own research until 5:00 p.m.
 
Getting the results back from my Renaissance Star Math® test was exhilarating, because in my previous school I knew I was doing well in math, but not how well. What I like best about Connections Academy is the free time I have for my own research. "