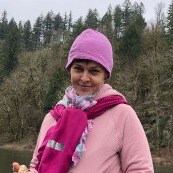 Our Online School Experience
"Willamette Connections Academy is a great fit for our family. Because we are able to structure our day around when my students' brains work best, they have thrived. One of my sons had gaps in knowledge in math when we enrolled in fifth grade. Scheduling math lessons at a time when his brain was ready to learn it along with the daily tutoring I can provide and the weekly one-on-one support from his teacher has completely changed his math story. Math is now one of his strongest subjects.
 
I also like that I can customize my students' learning experiences instead of being tied to a curriculum that requires all students to learn at the same pace. One of my students grasps math concepts easily, so he is able to move ahead in his lessons, which alleviates boredom and keeps him challenged.
 
One of my favorite things to do with my students is to read aloud from the Great Books Roundtable anthology of short stories. They mailed the physical books to our home. The stories are engaging and diverse, and after reading them, my students write essays in response to prompts or questions provided in the coursework. Each week, they write one essay for this course. It's wonderful practice—reading out loud, discussing the story, and then writing a thoughtful response.
 
Both of my students have made personal connections by joining clubs. Last year, one of them joined the Ukulele Club and the other participated in the Science Experiment Club. This year, they have joined national Connections Academy clubs, connecting with other Connections Academy students around the country. They participate in the Gaming and Technology club, Author's Corner, and Art Club. One of my students has found multiple opportunities to collaborate on writing and illustration projects with students all over the United States.
 
Advice for Prospective FamiliesIf you are coming from a brick-and-mortar school, one of the biggest differences that takes some getting used to is the ability to control your daily schedule. Students have a great deal of control over their school day and can decide what courses to do and when. The freedom and responsibility to pace their own day is an adjustment, but once you find what works best for your students, they will thrive!"

"I like that I can customize my students' learning experiences instead of being tied to a curriculum that requires all students to learn at the same pace."

— Kendra