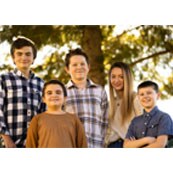 Why We Chose Great River Connections Academy
Joseph and I spend many nights and weekends shooting photos at weddings, graduations and for other families, and we know all too well that life goes by quickly. We finally reached a point where we wanted more time with our children, but we also had to provide for our family. That's when we decided to enroll our children Angelina, Ethan, Micah, Aiden and Memphis in Great River Connections Academy.

Our Online School Experience
Learning from home has given us the opportunity to learn so much about our children, their learning preferences and how they individually need to be engaged.

— Rose Lynn